Music Reviews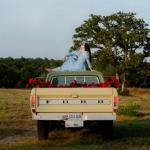 Waxahatchee Saint Cloud
(Merge)
Buy it from Insound

On 2015's Ivy Tripp, Katie Crutchfield (aka Waxahatchee) managed to create a beautiful album from the first note. That opening track, Breathless, is centered around a jagged organ and Crutchfield's haunting harmonies. There's a certain harsh beauty created by the final minute of that song, as ugly, monotonous keys swirl around in reverb over Crutchfield's nonsensical vocals until the song abruptly cuts off. On her latest album, Saint Cloud, she leans further into her country roots, attempting to make a personal album that evokes the locations and sounds of her youth. While there aren't many moments that live up to something like Breathless, it's a pleasant change of pace from an assured and honest songwriter.
That's not to say that the change in writing and production is a mistake. Saint Cloud is the first album Crutchfield has made after sobering up, and the difference is clear from opening track Oxbow. There's a wistful seriousness that announces itself with its fluttering synths, anchoring pianos, and punchy drums, while the repeated lyric "I want it all" gives the feeling of a new chapter taking place. It's a song that succeeds because it feels immediately different, but the album occasionally feels like it's standing in place with similar production throughout. Take Fire, with its scattered guitars, fluttering synths, and steady drum work, but the only notable part of the song are the lushly-layered harmonies on the chorus. This is a problem that the early half of this album has, with a handful of songs that don't conjure much emotion one way or another.
Thankfully, Crutchfield's goal becomes clearer as Saint Cloud goes on. The further you get, the sharper the writing becomes and the more introspective and unique the album feels. This precision is perfected on Hell, a song that starts with the striking line "Swallow my pride, it's mine to quell, I put you through hell." Over familiar but friendly guitar work, the lyrical focus feels cutting and honest, while simultaneously being one of the catchiest songs of the year. Later on, Crutchfield narrows in on the juxtaposition of dealing with addiction and southern iconography on Arkadelphia, a song that has one of the most haunting choruses of her career. With the overlap of wandering electric guitars, thudding drums, and bare vocals, it's one of the best songs she's ever written. While Saint Cloud doesn't have many moments like this, its highest points are just as good as anything Waxacatchee has ever done.
3 April, 2020 - 01:01 — Ethan Gordon