Music Reviews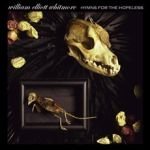 William Elliot Whitmore Hymns For The Hopeless
(Southern)
Buy it from Insound

A former roadie/merchandiser for Iowa Hardcore outfit Ten Grand, William E. Whitmore honed his material and live performance when opening to fill the gap created by his cohort's tendency to rip through their sets within twenty minutes. Claiming influence from the likes of Captain Beefheart, Ralph Stanley and Minor Threat, and hailing from a horse farm in a small town along the Mississippi River, Whitmore plays traditional, rural blues, with the intent of injecting the "inflection" of hardcore.
The biographical photo of an abundantly tattooed young man hides several striking facets about this man's music. Firstly Whitmore possesses a striking voice, with traces of Leonard Cohen, aged Johnny Cash, and a more ragged Keb Mo; it's a tool which, along with suitably cliched slang, underpins much of the album. Some listeners will undoubtedly be turned off by the number of "this here's" and "them's" emitted in a typically grizzled fashion, and you couldn't fault their criticism.
Yet simultaneously the biographical information scantly hints at this man's capability to convey sweaty, sedated misery at it's starkest. From the (when taken away from any "context") Morrissey-esque title track, Hymns For The Hopeless is abundant with potent lyrical imagery. These are cuttingly deadpan expressions of pain, featured on raw workouts like Sometimes Our Dreams Float Like Anchors (in which he pleads "drive another nail into my coffin") and Does Me No Good, a banjo-led portrait bereft of hope to the point of capitulation. When he sings of a moment when "your last resort is to pray to the lord, that the noose is weak enough to break" with the added proviso that "there are certain things you just can't escape from" on melodic lament From The Cell Door To The Gallows, or footnote to a dead lover Pine Box; it's hard to deny the gritty realism of Whitmore's musical sketches.
With the addition of a couple of tunes ready made for David Gordon Green should he choose to remake Deliverance (Lord Only Knows), or Larry Clark's Another Day In Paradise (Burn My Body), and final grasp at redemption Our Paths Will Cross Again, it's certainly a contradictory offering. Sure this album is stylised in a very tested way, but if we can forgive Kings Of Leon, The Strokes, Oasis et al. then it's highly spurious to exclude Will. I've been fairly into traditional blues since my childhood, and I've got a Dischord anthology or two taking my shelf space, and Hymns... is no less "authentic" than my records by Bukka White or Rites of Spring, it's also not particularly like either. Instead Whitmore's "character studies" of the hopeless occupy their own space, if anything recalling Nick Cave. It doesn't connect with me quite as vividly as say, John Hoeffleur's hangover, or Kathleen Edward's heartache, but there's clearly a place for songwriters like Whitmore. At the very least it's a great counterbalance should I ever lose perspective by playing The Holy Bible one too many times. Authentic as...
30 September, 2003 - 23:00 — Tom Lee