Music Reviews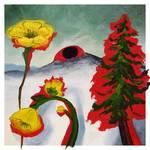 Woods Strange to Explain
(Woodsist)

For fifteen years Jeremy Earl and Jarvis Taveniere have been making psych-folk under the moniker Woods. Members of Woods have come and gone, including Kevin Morby (who departed in 2012). On their latest, Strange to Explain, Earl's voice, and Taveniere's sound work, are joined by John Andrew's Mellotron. Despite the sometimes shifting line-up, Woods has been reliably consistent in their sound, producing eleven full-lengths and a couple of collabs and EPs—all of them imbued with a laid-back, granola vibe which is the aural version of charred Palo Santo. Or, to use the band's description, Strange to Explain sees the guys "bouncing back to earth" to "the natural march of time" in "an uncommonly organic alignment."
Before we get to Strange to Explain, it's important to stress that two of Woods' strongest outings were collaborations. One, with Sweden's vintage instrument fetishist Gustav Ejstes of Dungen, added a swirl of LSD to the typically safe-space of Woods songs. But the collaboration that will etch Woods into the pantheon of greatness was their creation of backing music for David Berman's final project, Purple Mountains. On that album, Woods showed a knack for selflessly supporting Berman's husky voice and unparalleled lyrics to unforgettable effect. Like Ejstes with his strangeness, Berman brought something acrimonious into Woods' gentle wheelhouse, tempering Woods' often drifting, aimless sounds into lithe and muscular productions.
Unfortunately, the influence of Berman didn't stick, though you can't really fault Woods for that. Yet, because their Berman project showed what Woods is capable of, it's hard not to conclude that Strange to Explain lacks something critical. While the album is just as effective a twee-psych-folk album as their other productions, it's tough to believe a band of this longevity can still come across as one-note, and in some cases, one syllable, as in these lines from the fourth track, Can't Get Out: "Can't get up. Can't get up. Can't take a break. Can you see? Can't get back. Can't get up. Can't take a breath. Leave me be."
You might recognize that lyrical formula from Woods' last full album, Love is Love, in which the titular phrase is repeated 67 times, and that's on an album containing only one 3-syllable word ("another"). What I'm getting at is this: Woods consciously goes for simplicity, not depth. The musicianship complements that goal appropriately on Strange to Explain, an album that hazily focuses on themes of dreams and sleep. The wah-wah guitars, Mellotron, and gentle, upbeat drums match the laconic subject matter to relaxing and pleasant, if forgettable, effect, sort of like a dream.
One of the commendable aspects of Woods' work is a palpable humility to their sound. By effacing their egos, the music acts as a mystical offering for the listener, providing a safe or personal space. The first couple tracks, in particular, are effective mood pieces, giving off the eerie glow of a flickering campfire at a beach bonfire with hippies wavering in the shadows. This laid back attitude is lofted into the ether with the help of Earl's falsetto harmonies. The remainder of the album vanishes into a horizon of flutes, reverb, bongos and 70's vibes, occasionally rising to a rich, full sound—as does the title track—but more often than not leaning into choruses of "La da da da la da la da da" as though, and this is key, the band has created a backdrop for something not there. You could argue that this missing space is reserved for the listener, but there's something absent nonetheless.
In the end, it's not surprising that Woods are such great collaborators. They make music that would serve well as a gentle background to someone's fantasies. I couldn't help thinking about the Polyphonic Spree as I listened to Strange to Explain. The Spree were relatively unknown until their music found its way into movies and commercials, most fittingly a VW Beetle and iPod tie-in. Now, Woods are nowhere near as saccharine as The Spree, but I can still imagine a couple of songs from Strange to Explain as the muse of a new Zach Braff film, providing a cool background but never getting in the way. Or, to use another film to describe Strange to Explain, I'd urge you not to scrape too deeply beneath the surface because, like The Maltese Falcon, a centimeter beneath the patina of mystery and allure, there's naught but wood.
27 May, 2020 - 05:37 — Kirk Sever