Music Reviews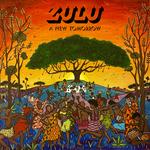 ZULU A New Tomorrow
(Flagpole Records)

With any project that seems so fully formed right away, ZULU went through various iterations before ultimately moving forward the very concept of heavy music on their powerful debut LP. It's even more notable how the Los Angeles band follows the tenets of powerviolence, one of metal's most uncompromising genres, to provide moments of hope within the struggle. But rather than lecture us with their blistering protest, the band celebrates some of music's legendary voices through memorable samples, from Nina Simone to Curtis Mayfield, to back their message. Conceptually, it's miles away from their raw, explosive first two EPs, My People...Hold On and Our Day Will Come.
Led by vocalist Anaiah Lei, who rose ZULU from the ashes of his solo project, the Bots, he and his band make dramatic stylistic shifts to soften their visceral breakdowns. But the one connective thread throughout these musical detours is that they exclusively feature Black voices, often ending a track right after a minute-long blast beat. It might seem incongruous at first, but somehow, a 30-second rallying cry on systemic racism named after a song title by 90s rap group Compton's Most Wanted (Music to Driveby) before transitioning into a sample of Mayfield's We People Who Are Darker Than Blue makes sense. Or consider Who Jah Bless, No One Curse, one of the most accomplished tracks here, which taps into Lei's Rastafarian roots and takes inspiration from Bob Marley's Who the Cap Fit. Even their smooth guitar passages, like on the instrumental Shine Eternally, sound directly inspired by Bad Brains' dub interludes.
There are many layers tucked within the half-hour-long A New Tomorrow, though it's the most straightforward hardcore tracks that hit the hardest. "Blessed in my own skin/I will not bruise," Lei growls on the pummeling Where I'm From, unleashing his proud, cathartic release without a feature or sample in sight. It allows ZULU to demonstrate a deeper understanding of their ideas and passions, which can sometimes get sidelined by the album's spliced-up presentation. Nevertheless, A New Tomorrow, as the title implies, looks ahead with a peaceful nature. And even at their most intense moments, Lei makes it a point to unify and stay strong—especially when external forces are unwilling to cooperate.
7 March, 2023 - 02:39 — Juan Edgardo Rodriguez