Music Reviews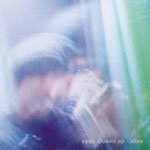 Alias eyes closed EP
(anticon)
Buy it from Insound

Rapper/producer alias introduced the unsuspecting world to a genre known as 'goth-hop' last year on his acclaimed debut album The Other Side of the Looking Glass, and if you think that this sounds appalling, let me set your mind at ease: it's basically trip hop. Again. On the eyes closed e.p., we find the genial harbinger of doom once again bashing out some woeful minor key misery, albeit without any vocals and with sparser, more simplistic arrangements. And the result? Nothing you won't find anywhere else, I'm afraid.
The attempt to allow space and simplicity into the formula leaves must consume and things got a little ugly sounding like uninspired and fairly amateurish attempts at the trip-hop genre, and although the production is accomplished throughout, on the whole there is nothing here that you can't find on any number of laptop-forged demos. The essential element for any artist is an individual and unique presence, and aside from the tinnitus tones and hectic beats of the fantastic Dec.26, 2002, there is little evidence of the innovative artist that inspired such acclaim with his genre-splicing debut.
Hectic is what alias does best, and thus it's ironic that he's trying to move away from the drum and bass/hip hop hybridising that makes up his talent, and which provides us with the best moments on here. Still, if you're a heavy investor in the scene you'll want this, and hopefully your cash will buy alias more time to re-think his strategy and give us some more unique sounds on the follow-up.
3 September, 2003 - 23:00 — Pat Harte