Music Reviews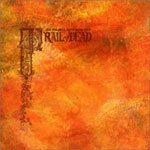 ...And You Will Know Us By The Trail Of Dead Source Tags And Codes
(Interscope)
Buy it from Insound

It's always nice to hear something from across the pond that is rock without being nu-metal or pop-orientated punk. In Source Tags And Codes, ...Trail Of Dead have created an album that not only fits that category, but is the best example I've heard since Queens Of The Stone Age's Rated R.
This is ...And You Will Know Us By The Trail Of Dead's first album on major label Interscope but it's clear from the onset that they have not comprised their sound in the slightest. It Was There That I Saw You and the excellent Another Morning Stoner set the tone for things to come. The melodies are deliciously jagged; the vocals low in the mix; the mood relentless. And it is in this vein that things continue. Individual tracks vary in heaviness of course - Baudelaire and Days Of Being Wild are poles apart - but this variety can only be a good thing and the album still has a really cohesive feel.
This album is essential for anyone who likes their indie rock raw and powerful - if you don't believe me just go away and listen to the ultra-melodic How Near, How Far and the epic Monsoon. Still don't believe me?
31 March, 2002 - 23:00 — David Coleman