Music Reviews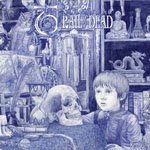 ...And You Will Know Us By The Trail Of Dead The Century Of Self
(Richter Scale/Justice)


It's always roughest past the peak.

For Austin alterna-prog heroes …And You Will Know Us By The Trail Of Dead, 2002's Source Tags & Codes was their peak, subsequent attempts at repeat acclaim failing to transpire. With Interscope out of the picture, Trail Of Dead's sixth album, The Century Of Self, finds the band in "roots" mode, retracing old steps so as to cover new territory.

As Trail Of Dead's success has worked to stunt their growth, The Century Of Self sounds willing to forget the band's past conquests, continuing to revel in progressive rock "movements" though with less propensity for over-saturation. The album strives to maintain some semblance of Trail Of Dead's epic sensibilities, (the inclusion of instrumental intro Giants Causeway not necessarily as large or destructive as its subject matter, nor as epic as it suggests), but its sole purpose is to simply rock. Far Pavilions throws down some whirling rhythmic trunks of low end that heighten what could otherwise be taken as some over-the-top attempt at DC post-hardcore. And, then Isis Unveiled makes guitars sound like colossal Townshend violins, gloriously reigning godhead amidst cymbal storms ringing like oncoming battle cry.

Alas, that power fades. As Halcyon Days drums its way through its teeming guitar army, piano melodies momentarily deliver us from evil (Amen) long enough to establish that the wad's been blown; the journey downhill for its remaining miles ahead.

Within four songs the album's strengths are delivered, The Century Of Self suffering from impatient expenditure. Never mind that Hendrix basically wrote the gist of Bells Of Creation forty years ago, (Are You Experienced?), never mind that Fields Of Coal is a sea song shanty with nary an Ahab or Quint in sight, Trail Of Dead spend the rest of the album dog-piling their four (!) ballads, coaxing listeners to sleep until Ascending abruptly tries to inject them with a syringe of audible caffeine.

As Insatiable Two carrousels the album to a close, Insatiable One its drowsy counterpart, The Century Of Self ends on a decent note despite the murk that's traveled beforehand. As promising as its initial concentration of songs foretells, The Century Of Self suffers from careless sequencing, its tempos haphazardly spooned together and flung like high school portions of mashed potatoes and gravy, slopped into sections of the tray with no real purpose or benefit. Their hearts in the right place, their confidence and creative freedom intact, Trail Of Dead make some headway, but fail to see it through.
9 April, 2009 - 16:43 — Sean Caldwell