Music Reviews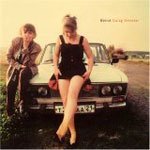 Beirut Gulag Orkestar / Lon Gisland EP
(4AD)

Sometimes, the weight of expectation can distort the joy in a work. The web buzz around Zach Condon's bedroom project verged on fever around a year ago, and 4AD finally blessed Gulag Orkestar with a UK release this autumn. Constant and tenuous references to a child prodigy breaking boundaries with his one man band combined with his album's absorption of Balkan and other European influences to create an unbearable mystique. The man from New Mexico has been saddled with levels of indie geek hyperbole of Oberst proportions.
The truth as I interpret it? Don't believe the hype; the actuality is far subtler than an implied poster paint romance. Gulag Orkestar is a slow burning, textured record.
Sonically, the involvement of Jeremy Barnes and Heather Trost has inevitably provoked Neutral Milk Hotel and A Hawk and a Hacksaw comparisons. There's a warm, un-kilter collage feel about the arrangements which renders these justified. Condon's sweeping vocals have Stephin Merritt's plaintive, perhaps chocolate cigarette tarred charm. His extravagance still seems muted.
The songs flow together well, accompanying pieces tied in a non-specific drama, with moments of serene beauty at peak. Lyrics are almost indistinguishable, and largely ephemeral. Instead, Beirut excel at creating believable, emotive ambience. Prenzlauerberg has jolly pomp and knowing sorrow in fistfuls. Brandenburg could be the scene after Lift To Experience's post-apocalyptic Texas Jerusalem Crossroads vision. Mount Wroclaw (Idle Days), and Rhineland (Heartland) are languid and almost cinematic. The bursts of extreme joy appear amplified in these surroundings. Scenic World and After the Curtain sneak through as moments of happy clarity in a fashion that's almost believable.
My promo includes recent tour EP Lon Gisland. It has a scattered immenseness akin to early Radiohead releases. Elephant Gun would be one of the best cuts placed in the midst of Damien Rice's Nine. Dreams are apportioned underground as the band waltzes on. My Family's Role in the World Revolution takes the mid ground between Bernard Hermann and Forever Changes. A reprised Scenic World typifies the best this project offers. In a world of their own doing, Beirut make contemplation and un-surety seem like the most wonderful opportunity.
Gulag Orkestar: 8/10
Lon Gisland: 7/10
18 January, 2007 - 14:52 — Tom Lee