Music Reviews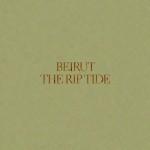 Beirut The Rip Tide
(Pompeii )

Beirut, led by singer/songwriter Zach Condon, is a blessing in a contemporary subculture fantasy world. We can have our cake and eat it too. "The cake" being synthpop, drum-n-bass, and other artificial electronic sounds hosted by James Blake, Washed Out or Panda Bear. Then we can enjoy the consumption of borrowed mid-20th century Eastern European pop music fused with American indie rock. Basically, we're spoiled rotten when it comes to sound. Since 2006 Beirut has continually invited us to mingle with Balkan folk in a post-punk landscape. Condon has previously stated that he's "not as worldly as he seems", but there's no denying that his music contains a touch international elegance. I only stumbled upon Beirut after The Flying Club Cup and it took me some time to settle into the Sinatra-esque voice with what I imagined to be a mariachi band. It's grandiose and dramatic, but charming because it places you in another era. The visual representation of this feeling was created in the Elephant Gun video, directed by Alma Har'el, which actually made it into Paste magazines top videos of 2000-2009. A kinky burlesque in the form of a 1930's silent film could be set to almost all of Beirut's music, but since the MP3 has killed the video star, I can't see them recreating something so intricate in the immediate future.
It seems as though Condon tailored The Rip Tide to new level of maturation. Instead of setting music to an emotionally charged montage, it's sounds more like conclusion to something. There aren't any monumental scores like in Guyamas Sonora or Forks and Knives. You don't really feel the need to stand up and applaud like you would after some of their earlier stuff. Condon often refers to the new album as "sunny" in interviews, and I can jump on that if by "sunny" he means warm. Sunny leads us to believe there's a happy-summertime-poppy side to this international sensation, but I can't hear it. It's tame and merciful. Goshen, being the epitome of this description, is the most tender part of the meat. Piano with a soft melody prompts lyrics that lead an investigation into potential. The transition into Payne's Bay is interesting because the violins in the intro guide you into another form of melancholy; one that quickly transforms into stronger notes with clashes of cymbals, but without an abrupt or unwelcomed change of pace. This actually happens a lot throughout the album. The overall movement from one track to the next is a noteworthy arrangement. The rise and fall of emotions is confined to a particular range that doesn't allow for any surprises. I suppose that could be considered a good or bad thing depending upon personal cravings. Even the sunniest parts, which are mostly in Vagabond and Sante Fe, fit within these invisible boundaries. It might have something to do with the fact that this album was recorded in the dead of winter; it might also be a sign of Condon's progression into refinement.
The unmistakable Beirut sound is apparent, but brought down to the basics: mostly piano, ukulele and horns. Sharon Van Etten lightly touches the album, but most won't even notice she's there. My prediction is that Beirut will have a honeymoon effect on some listeners. For instance, I absolutely love when I feel the need to examine the history of a sound and pinpoint influences from around the world. However, once the research is complete and you're no longer romanticized by the European getaway, it feels less glamorous after a while. The Rip Tide lacks an extension into flair, even though their music is already considered exotic by the instrumentation alone, the creative panache is missing. The LP is easy to listen to and it doesn't run too long or too short. Basically, it's amazing music for laying around on a Sunday afternoon and pretending to be somewhere you're not.
15 August, 2011 - 13:54 — Randi Dietiker