Music Reviews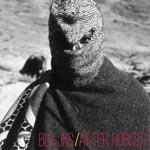 BLK JKS After Robots
(Secretly Canadian)

Once critical acclaim and attention has been generated, it becomes a struggle to maintain, especially for as odd an entity as BLK JKS.

Following this year's Mystery EP, the South African progressive quartet return with After Robots, an exquisite mood-altering genre combo that showcases the band in fits of proggy mathematical invention which more or less exchanges TV On The Radio comparisons for Mars Volta ones. I disagree with both, as I think BLK JKS carry far too much authenticity and passion to be discredited as similar to either band, but I digress…

After Robots wears some of the excesses that would lead one to believe it's meant to outshine its predecessor. The high gloss of the album's production and the band's ambitious and determined output forgoes speaking just to yell out, "But, don't you cry/If we all survive," amidst a newfound affinity for brass sections and a noticeable escalation in time signatures and rhythmic syncopation. No one can deny the album's complexity, even though that complexity seems at times born out of desperation. You don't realize exactly how much sheen After Robots carries until you hear the Mystery original, Lakeside, restructured, reproduced and, for some reason, included on this album. It's possible the band wanted to make sure that any new fans won over by the LP would hear the song, but to anyone reading this: Please, the version on Mystery is much, much better. Go buy that one.

But, any complaint regarding the band's attempt at keeping its hold on the public's ever-decreasing attention span is mostly for the sake of complaint itself. After Robots, whatever its production, brass or instrumentation, possesses the calculating challenges of prog without its oftentimes cold and pretentious disposition. There's lifeblood that flows through what BLK JKS does, their cultural roots on display through various dialects and an interesting fusion of genres. Songs like Molalatladi and Banna Ba Modimo take the best advantage of the band's rhythm section, (bassist Molefi Makananise and drummer Tshepang Ramoba), jazz syncopation, reggae/ska-flavored bounce and blues music with a folk dirge like Standby still carrying equatorial heat.

And though After Robots is mostly a pensive and mesmerizing mix of music, (Mpumi Mcata's string play throughout the lengthy Kwa Nqingetje speaks in tongues similar to Zappa or Santana and vocalist Lindani Buthelezi never relents in his impassioned delivery), the abrupt power of Taxidermy and the seductive reggae heft of Skeleton offer up a welcome discourse in the versatility of rock music. Honestly, a sampling of what these guys listen to, BLK JKS hailing from a land not necessarily known for its musical consumption, would be worth checking out. I genuinely want to know whom in the world of music these guys declare their heroes.

In the meantime, After Robots, whereas I don't necessarily believe it a step above the Mystery EP, still ably showcases the talents of BLK JKS, their world-influenced musical hybrid a unique presence in an industry dangerously close to being oversaturated with no longer distinctive hipsters spouting tra la la's.
24 September, 2009 - 13:24 — Sean Caldwell