Music Reviews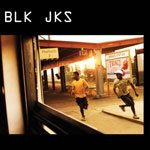 BLK JKS Mystery EP
(Secretly Canadian)
Buy it from Insound

BLK JKS (pronounced "Black Jacks") are a handful of native South Africans who thrive as a collective whole, teaching themselves how to play their instruments, maintaining a healthy work ethic, and supporting their amorphous sound with a massive tour through South Africa. Recently signed to Secretly Canadian, their debut EP Mystery, out March 10th and produced by Brandon Curtis from Secret Machines, is a stunning whirlwind of sounds that are vaguely familiar, yet completely their own, all mashed into an EP of less than twenty minutes in length.

Landslide seeps into gear with a spectral locomotive intro before blasting into a Bloc Party-esque percussion driven overdrive. And that's just the first 40 seconds. From there, front-man Linda Buthelezi piles on the vocals that have a very TV on the Radio feel, moaning about "paramedics", "broken lesions", and "where did it all go wrong". Guitarist Mpumi Mcata maintains the ominous rhythmic electricity being hurled at the listener up until Buthelezi's falsetto chorus, where the guitars shift to a triumphant carol and the percussion takes on something reminiscent of reggae for a fleeting moment before crashing back down again. It's a startling first cut, and in the remaining three tracks, the band take you through even more diverse sonic territory.

Mystery has a jazz-fusion inspired structure, complete with waves of distortion, hectic-but-precise drumming, growling guitar accents, and layers upon layers of vocal blankets that push the music to teetering on the edge of chaos. Summertime is a very happy name for a song; that is, until the dark chanting vocals accuse the summertime of "burning cancer into my skin." And It's in Everything You See has an otherworldly earthen terroir that all but transports its audience to a more spiritual realm.

The hardships of South African life flood through much of the disc, whether expressed through the rhetoric, the minor keys employed throughout the EP, or the Zulu blues aura created by the self-described "do what you can, with what you have, where you are" approach. The disc shows promise, but is not an undertaking for a light occasion. Despite the fact that it's an EP, it's more of an invested effort, but well worth delving into when it arrives mid-March.

You will find that pinpointing or labeling their sound proves extremely difficult, and BLK JKS are okay with that "...because life is a Mystery, and you shouldn't try to define it."
1 February, 2009 - 16:37 — Kevin Walker