Music Reviews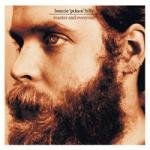 Bonnie 'Prince' Billy Master and Everyone
(Drag City / Domino)
Buy it from Insound

When compiling my top twenty albums of 2002, there was one record that I found myself desperate to include - a record that despite only dropping through my letterbox a month or so before the official deadline, had gone on to almost single-handedly soundtrack my December. Much to my dismay however, the album in question (Bonnie Prince Billy's achingly beautiful Master and Everyone) was rendered ineligible by its January release date. And thanks to that stupid January release date, it's most probably going to miss out next year too!
Damn it, who decides to release an album in January anyway? Haven't the record label bigwigs wised up to the fact that the whopping great majority of us music critics have got lousy memories? I struggle to recall events from a few months ago and I've got youth on my side! It therefore follows that the ageing hack will have no chance of remembering what records flicked his switch twelve months earlier. It's just impossible. So when the time to churn out those inane "Best of 2003" lists comes, the odds are that records like Master and Everyone will be passed over. Again. And as a result, I'll probably find myself tampering with the vote just to get the damn thing in there ... and you'll complain because my meddling has squeezed out the latest MOR atrocity from Travis ... and I'll sigh, safe in the knowledge that I really can't win.
But where was I? Oh yeah, I remember - Master and Everyone - a strong contender for album of the year. Genuinely. I'm not telling you this because it's topical, funny, or even because it's downright stupid - I'm telling you because from the moment that Will Oldham ushers in the album's inspirational opener, The Way, this album has me enraptured.
Blurring the boundaries between folk and country, and defiantly minimalistic in doing so, Master and Everyone is a special kind of record - and one which you should experience. Maybe you're new to Oldham's work; maybe you're a hardcore fan? Maybe you're just totally confused by his constant use of pseudonyms (we reckon he's used a grand total of fourteen different recording names to date)? Either way, it really doesn't matter - I'm certain that as a fan of music in general, Master and Everyone has something to offer you - track it down, and prepare to be captivated by the undeniable charm of Will Oldham. It could be the best thing you do this year...
6 January, 2003 - 00:00 — David Coleman