Music Reviews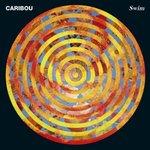 Caribou Swim
(Merge)

Caribou's Dan Snaith has skirted the curse of most popular electronic musicians by routinely releasing inspired and varied music throughout his decade-long career. His ability to move between such disparate genres as 1960s psychedelia, krautrock, shoegaze, and freakfolk without sounding hectic or sloppy has gotten him a bit of leeway to explore a decidedly unhip musical genre on his new release, Swim -- techno.
And it's really not that bad. In fact, it's good. And the album still sounds like a Caribou release. His music still retains that warm, unfocused spirit that made his previous albums so interesting, but underneath the fuzzy veneer is a meticulously-crafted musical engine.
Snaith has enlisted help from some friends on this album, and it shoes in spots. The spastic saxophone in the background of the song Kaili belies the cluttered influence of genius beat maker Kieren Hebden from Four Tet. Other collaborators such as Junior Boys' Jeremy Greenspan and Born Ruffians' Luke Lalonde leave their mark less noticeably on the album, but to no less effect. What Swim presents is a more confident Caribou that has managed to include a bunch of new influences without suffocating his signature sound.
The record begins with Odessa, easily the most straightforward moment in the album. Careening bass, Snaith's subdued delivery, and bits of flute and guitar make the song stand out among the rest of the album. Yet, for how happy the song sounds, the lyrics are incredibly depressing. The song's arc chronicles a familial break up, where an unhappy woman takes her children and drives off from the home she shared with her husband. The sadness of the opening track sets the tone for the rest of the songs on the album: Kaili deals with a couple begrudgingly growing old together; the song Hannibal is about the loneliness that sets in once the kids move away.
Yet, for how dreary the lyrics might be, the songs are so pleasurable to listen to. Snaith obviously understands house music, and more than that, he understands what makes it so appealing. The songs on the album give the feel of some mythical dance club where Gumdrop bears grind on stripper polls as a lollipop djs sticky beats for the candy kids on the dance floor. Any other description of the album's aesthetic would be lacking.
Snaith is able to hold onto his Caribou identity despite the new techno influences. His new album Swim reaffirms the supreme artistic capability that is Caribou.
4 May, 2010 - 12:08 — Preston Bernstein