Music Reviews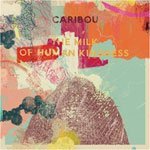 Caribou The Milk of Human Kindness
(Leaf)
Buy it from Insound

You might know Dan Snaith from his Manitoba incarnation. 2003's Up in Flames was a stunning work marrying psychedelic pop and a dance aesthetic. The playful genius of songs like Every Time She Turns Round It's Her Birthday and Crayon earned it a place on many "best of" lists for that year (it was #2 on this very site). During the time spent recording a follow up, Snaith was sued by "Handsome" Dick Manitoba of the Dictators for usage of his name. Facing ridiculous legal costs to fight the case (which sounds a little ridiculous in itself, surely there are animals and places which have a more definitive claim to the name), Snaith re-branded himself as Caribou, after a creature from the province of his former identity.
The name change has worked fairly well in the end, as The Milk of Human Kindness occupies a more playful, child-like headspace than Snaith's previous record, injecting some of the cold beauty of debut Start Breaking My Heart to a bizarre, Wicker Man type childish serenity. It could give Snaith the image as a Richard D James style electronic auteur in the long term, perhaps with different animals for different genre albums. Getting back to the album, this is as good an effort as could be expected on the heels of a great album. The opening Yeti brims with delight, like a Kevin Shields ring tone. Subotnick makes like Jimi Tenor playing Abbey Road, while A Final Warning recalls the weirdness of The Flaming Lips circa In a Priest Driven Ambulance.
Snaith continues to completely disregard genre. The beats of Lord Leopard could show up on a cLOUDDEAD release, while Bees is slightly reminiscent of Mercury Rev's See You on the Other Side. Hand's First is thirty seconds of Florien Hecker style noise, followed by Elliot Smith-tinged psych-folk on Hello Hammerheads. Drumheller sounds like Robert Wyatt and Radiohead. Pelican Narrows could be an instrumental Jazz medley take on Wu Tang's C.R.E.A.M, in the style of Jethro Tull. Barnowl finishes things dramatically, if Sesame Street was fused with Garden State, this could sound track the ending. Appreciation of this record hinges on giving it time. In fact, listening to The Milk of Human Kindness without distraction has changed my opinion, rather than a credible follow-up, it's another great album in its own right.
25 September, 2005 - 23:00 — Tom Lee