Music Reviews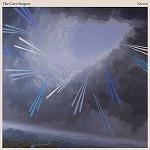 The Cave Singers Naomi
(Jagjaguwar)
Buy it from Insound

The Cave Singers formed from the remains of Pretty Girls Make Graves, and have found a niche in the stripped-down, soft rocking folk that has been perfected by the likes of Bon Iver and The Tallest Man On Earth.
On Naomi, their fourth full-length album, the group presents a batch of highly competent folk rock. However, the album's lack of any type of variance from the formula leave it feeling more like a folk-by-numbers exercise, something manufactured more than created. Therein lies the problem with Naomi. Sure, it's not bad in any way but there's nothing about the album that helps it stand out from the surprisingly cluttered folk-rock landscape. The entire album - the pace, the lyrics, the instruments walk along at a very leisurely pace without any variation. There are some pretty songs(No Tomorrows is especially beautiful), but there isn't anything compelling enough to come back and listen again.
A couple tracks approach intriguing, with the band straying a bit from their carefully scripted LP, such as the driving guitar and welcome harmonica of It's a Crime or the up-tempo closer When the World, with some great hand claps and a guitar lick that could pass for the Allman Brothers. However, the brief glimpses above the album standard of mediocre are just all the more frustrating because they show the potential this band has if it would just let loose a little.
The Cave Singers have shown before what they can do, giving us some amazingly swampy folk rock with the gleefully sadistic but entrancing Dancing On Our Graves, from their debut Invitation Springs, but on Naomi they seem to be all about atoning for sin instead of reveling in it. When you hear the album, nothing jumps out at you, and that's a problem. This is strictly an average folk rock album. However, in our cardigan-loving world, where Mumford and Sons rule supreme and bands like Edward Sharpe and the Magnetic Zeroes are household names, average is not good enough.
Naomi is a decent album, not a good one. It might be forgotten as soon as you're done listening to it. The Cave Singers have shown before that they can be so much more than average. Just not this time.
13 March, 2013 - 04:20 — John Grimley