Music Reviews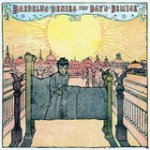 Daedelus Denies The Day's Demise
(Ninja Tune)
Buy it from Insound

I tend to be a little overcritical of people who enjoy instrumental hip hop. Part of the fun of being a music critic is judging other people, and I'm happy to do this, to pigeonhole devotees of this kind of music in with the beanie wearing, thickset-jaw snowboarding types that are just relieved that they don't have to be 'street' or 'ghetto' to listen to hip hop anymore.
Of course I'm wrong, but that's not the point. Coldcut and Ninja Tune are almost an entity unto themselves with the amount of quality music they've poured out over the years, a devastating display of innovative, groundbreaking and most importantly extremely high-quality acts that defy the more general instrumental hip hop definition as it's traditionally been held. Daedelus released his latest album on the label recently, and actually finds himself going further away from his hip hop roots on this release. Whereas 2002's The Quiet Party was an extravaganza of heavy-on-the-third-beat eclectica and MC guest spots, Denies The Day's Demise sees the West Coast maestro eschewing his usual collaborations (with the likes of MF Doom, Prefuse73 and Mike Ladd) in favour of his own synth-based dioramas, sweet vocal spots and curious Latin American percussion.
The album kicks off though with a Prefuse-ish spoken word cut-up, working along similar lines to Scott Herren and The Books, but the rest of the album is far more focused on creating listenable, accessible, hooky pop songs in an electronic context. So, for example, Viva Vida will grab you straight away with it's oboe-led samba swing, before the slightly narcotic vocals (from Alfred Weisberg-Roberts, Daedelus himself) lilt you away on an extremely pretty melody. I found Viva Vida to be the first in a triple-bill that marks the pinnacle of the album - it's followed by Samba Legrand, which introduces the undulating, mildly disorientating sweeps of synthesiser that work so well with the percussive Brazilian beat, and ushers in the huge banks of such synth-abuse that works so well for the following track, Like Clockwork Springs. This track is itself a haze of chilled, shaker beats like its predecessor, but this time the melody rides over everything, creating almost a wall of sound that's not really echoed elsewhere on the record.
So Denies The Day's Demise works well on many levels: it's extremely well track-listed, with each song suggesting the next to come, which is always a progression and digression; it's beautifully arranged, with completely different groups of instruments entering in almost canonically to continue each theme; it's accessible, each track being a graspable length and with plenty of melodic and rhythmic hooks, without being bland or uninteresting; and finally it rocks - the beats here are sultry and sexy but definitely groovy and head-nodding, even for a confirmed avant-garde head.
10 December, 2006 - 12:51 — Simon Briercliffe