Music Reviews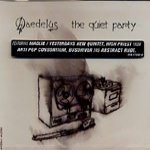 Daedelus The Quiet Party
(Plug Research)
Buy it from Insound

This mini-album from Santa Monica's Daedelus sees figures from the world of avant hip hop remixing tracks from the formers 2002 release, Invention, a record that was received rapturously by those in the know. It represents an underground movement rapidly gaining strength, which seeks to move hip hop in a more cerebral direction. Where the rap collective cLOUDDED led with 2001's eponymous, inspirational mix of space-aged beats, and ambient techno, others have followed in an attempt to revitalise a genre that shows signs of going stale while in the chokehold of the jiggy.
The Quiet Party stands as a refreshing snap shot of that sea change. "I wanted to be lovers/ but she just wanted to be friends" raps Busdriver (an MC from Daedelus' neighbourhood), on the delightfully un-misogynistic, sunshine funk anthem Girls. A sharp contrast this with the ho's and bitches schtick offered up ad infinitum by Snoop Doggy Dog, et al.
Daedelus defies lazy definitions. But you would hardly expect someone who christens himself after the figure out of Greek mythology who created the labyrinth in which King Minos imprisoned the Minotaur, to be imprisoned himself by tired cliché. Take Invention, an opus that utilised, 30's, 40's and 70's grooves and strapped them to progressive techno, by way of the Aphex Twin and Squarepusher, as further proof of this.
This gift of originality is there for all to see on Playing Parties, a mournful piece of fractured electro jazz. Sadly though, some of that on offer feels a little throw away. Madlib's Bonus Beats, is nothing more than a standard hip hop beat accompanied by whirring sounds, and the instrumental version of Girls, is completely superfluous.
However, these are minor complaints when you consider that this is just a taster before the next full-length release, and there are enough little treats here to keep things interesting. Such as the brilliant Quiet Now, where Busdriver excels insanely and indecipherably rapping at lightning speed, an electric synthesis of Busta Rhymes and ODB, over lush beats. Final number, A Touch of Spring has Daedelus surfing time to create a jittery, 70's funk, 40's jazz, techno, gospel, slice of sweet soul. Masterful.
The Quiet Party: short and at times considerably sweet.
1 March, 2003 - 00:00 — Alistair Hann