Music Reviews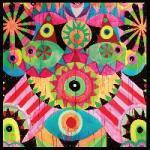 Dan Friel Total Folklore
(Thrill Jockey Records)
Buy it from Insound

Dan Friel cuts a lone figure on stage, perched on a stool with a two-by-three-foot rectangle of plywood to which his various effects, keyboard and LED lights are attached. He fiddles away like an engineer, twisting dozens of knobs with his face set by concentration; his shock of red hair as wild and frantic as the sound. It's a somewhat understated performance.
Following the release of the Valedictorian/Exoskeleton EP back in November, Total Folklore offers the 'full' Friel experience, taking its lead from that EP, or rather with the EP preceding the epic to come. The record opens with the track, Ulysses, which was remixed by Peaking Lights for the November release. Ulysses relies upon the hypnotic cyclic power of the earth shuddering explosion which, for the sake of argument, we will call a drum beat. This track encapsulates a third of the entire record and as such is weighted as a gigantic statement of intent, flinging serrated fragments of shrapnel into the ear drums.
Ulysses is indicative of Friel's propensity for expressive improvisation, colliding his ferocious whims and dissonant impulses. The intense sound propels into the brain sparking constant images of subterranean chaos. In many ways, Ulysses is the magnificent axis upon which Total Folklore rotates, focussing sounds towards electronic beats and samples. The only hint of his guitar orientated Parts & Labor collaborations comes in Valedictorian which owes more to that sound while still reverberating from an intense, puncturing beat. The record is laden with mutations which precede a constant, impending energy that never allows complacency in the listener.
Such is the intense expulsion of ideas that the attention is almost overcome, an aspect which Friel must have been conscious of by including a trio of intermission's which provide a welcome inversion, but also begin to suggest musical resonance in obscure places – a crackling record needle, traffic noise, background chatter and echoing buildings – all of which make suggestions of rhythmic cohesion. This exemplifies an intelligent approach to his composition which considers the whole work and not merely individual ideas. He offers the intermissions as examples of possibility if our minds are as receptive as his clearly is; spanning wild tangents of instinct but also isolating these fragile pockets that provide, not only relief from what is otherwise an insanely intense exploration into the possibilities of sound, but allow moments of contemplation which is much needed.
With entire swathes of experimentalism as we have here it can be difficult to extract a specific message, but Total Folklore stands for much of what the namesake novel, Ulysses, did. It displayed that there are infinite, individual interpretations of any given moment and the immediacy of the record hardly allows us to think of anything else. It was an attempt to convey a feeling or an emotion in a way that cohesive linguistic description never can, and therefore hangs on the cusp of capitulation in much the same way. The cavernous vastness of silence has surely never been as reproached by the unintelligible and impossible energy which it has here. The entire subject seems to be instinct, a bombardment from Friel's own psyche, expressed in a way that words could never do. Being therefore, indescribable. But nevertheless astonishingly glorious.
19 February, 2013 - 10:01 — Matt Bevington