Music Reviews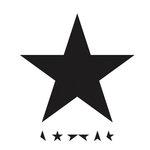 David Bowie Blackstar
(Columbia)

Contemplating the role of reinvention when discussing David Bowie's career path is something of a moot point, as it is an expected pattern from an artist who creates with purpose and not relevance. Three years ago, however, there was a justifiable reason to question Bowie's reigning eminence after a string of early 2000's releases that found him revisiting past successes with not-so remarkable results. In other words, The Next Day felt like a crucial turning point in his career, one where he rejected any kind of theatrical guise and focused on delivering songs that just had to be good.
Bowie's apparent anonymity and rejection of pseudonymity became the deep-rooted theme behind The Next Day, a self-assured rock record that sounded like a spiritual successor to 1980's Scary Monsters. Sans for the occasional moment of translucence, it was a straight-ahead, fist-clenched affair that dug into some darker themes atop a lighter, even optimistic sound. Such was his absence detrimental to the album's promotional run that it found a compelling reason to talk about Bowie again, to assume and hypothesize about his wellbeing when he might've been relishing the attention as a vampiric specter.
Considering the apparent ageism that plagues musicians, especially veteran artists who genuinely try to further their art, it was certainly an accomplishment for Bowie to write some of his best material in years, even if the same couldn't be said for the album's overly-excessive cleanliness. It sounded too polished and antiseptic for its own good, scouring some fairly distressing and heart-rending moments by cleansing them with virtuous guitar leads and a characterless, session-musician flavor. But above anything else, it was Bowie's evident noncompliance that lead many to speculate that his long-overdue renaissance was just around the corner.
And so we finally heard the uncompromising ten-minute title track Blackstar, a surprising reveal that truly felt like Bowie was firing through all cylinders while holding a cold, fiendish temperance. From the moment it opens with its disembodied vocals and intrepidly off-kilter arrangements there's a deep sense of unease, as if Bowie has once again incarnated into this unearthly being. Bowie isn't a stranger to writing songs that careen into multiple parts, as he's proven in the past with Cygnet Committee and especially The Width of a Circle, but never in such an orchestral swoop; its blaring horns and descending notes simmering with a threatening, though no less enrapturing quality.
Not only is Blackstar a triumphant return for Bowie but also for longstanding producer Tony Visconti, who seems challenged and invigorated by Bowie's unflinchingly esoteric vision. Despite having been heavily promoted as Bowie's "avant jazz record", given the album's amorphous sequencing, there's never any moment where the instrumentation becomes indulgent or even too strict or "academic". Some swanky accoutrements give the track Lazarus a seductive aroma alongside its juddering bass groove, moving at an almost glacial pace as Bowie allows himself to set his own valuation on his existence.
There's an underlying myth that he's creating throughout Blackstar that makes it hard to really discern the type of man Bowie is or wants to become, seeing as stark, contrasting images of questionable behavior, even violence, surround its very spacious courts. "Black struck the kiss, she kept my cock/ smoke the mistress, drifting on," he croons with no remorse in Tis' A Pity She Was a Whore, its succulent driving rhythm, provided by drummer Zachary Alford, yielded by a boisterous sax as he clears his throat throughout in an unmannerly tone. Bowie's fabled accounts do at times perplex with some affected phrasing, like in Girl Loves Me, where he cobbles together a string of lewd Nadsat words in an almost freestyle approach.
It isn't until Blackstar's last half where Bowie's blend of experimental and rockish tendencies unwind in favor of seeking more well-seasoned territory. The tenuous ballad Dollar Days does unfold quite elegantly with its velvety upscale atmosphere, featuring the kind of classic acoustic progression that has haunted Bowie's most classic works. It's a fitting, melancholy preamble to the utterly beautiful I Can't Give Everything Away, a delicately textural piece with a soft-rock eighties bent that strongly evokes Mark Hollis's masterful latter day recordings with Talk Talk. "Seeing more and feeling less/saying no but meaning yes/ this is all I ever meant," Bowie questions as if reminding us that his celebrity hangs in the periphery, a mere side of him that symbolizes his need to hang on to his persona.
With Blackstar, Bowie disengages himself once again from popular opinion and scoffs at the idea of taking the righteous path, finding inspiration in what is immoral and contentious. But in doing so he also finds an artful niche that suits his sixty nine years of age, assembling together a young militia of jazz musicians who somehow wound up wringing up a madcap fusion of radical ideas that don't even amount to full-fledged jazz. This is a Bowie expression through and through, but it could only be realized by abolishing his own traditional confines. It'd be quite the impenetrable send off were this the end of his career, but as he's proven time and time again, it always feels like he's got something else to prove regardless of the time it takes him to get there. [Believe the Hype]
11 January, 2016 - 05:20 — Juan Edgardo Rodriguez