Music Reviews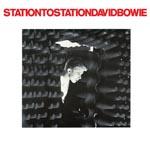 David Bowie Station To Station (Special Edition)
(Virgin/EMI)

His was a face that appeared on Don Cornelius' "Soul Train" when funk and soul music found itself some pale-faced crusaders, Bowie's "Thin White Duke" a new phase of his persona-craze. The Duke was a cabaret-frequenting sophisticate living on groove and following in the wake of Ziggy Stardust's glamour and flamboyance. Think Humphrey Bogart meets Julie Andrews and add bass lines thick enough to snort in a public john; Station To Station is as close to disco as one can get without vomiting all over Studio 54's superficial reputation.
Originally released in 1976, Station To Station preceded Bowie's exceptional collaborations with Brian Eno, the results of which became the much-celebrated "Berlin Trilogy:" Low, Heroes and Lodger. Apparently the byproduct of way too many Los Angeles evenings in a state of nasally charged stimulation, and by his starring role in The Man Who Fell To Earth, Bowie's soul-infused testimonial to European interpretive American pop is pure style. There isn't a second of this album that doesn't invoke physical movement or perpetuate images of the Duke suit clad and inhaling the pinstripes directly from the fabric.
As this was for Bowie a transitional pitstop, a literal layover from station to station brought on by the influx of American sound, designer opiates and theology, Station To Station is regarded as a turning point in his creative progression. Virgin/EMI is issuing a three disc Special Edition of Station To Station that features an original analogue remaster of the album and a two-disc release of Live Nassau Coliseum 1976, which had been up until now been heavily bootlegged. There's also a Deluxe Edition that borders on excessive as it features the three discs of the Special Edition, plus a singles EP and a 1985 CD mastering of the album. In addition, the Deluxe Edition also features a three LP format of the Special Edition and DVD audio with three mixes of the album. There are a lot of ways to hear Station To Station for the audiophile, the Deluxe Edition meant for those willing to essentially buy this album three times and enjoy its history.
For me, Station To Station has a special place in my heart as it was the first Bowie record I ever bought or really listened to. Transfixed by its ten-minute title track, the electro-flurry of synthesizer and severity of low end, for me that slow and heavy introduction warranted many, many listens as the genius arrangement of funk-laden paranoia slipped into a dance-friendly upswing initially surprised me. It wasn't something I expected, Bowie's heavy croon suddenly bolstered by high-energy disco-ish rhythm, intoxicants evidently manipulating the brain into a bi-polar-sized mood swing.
Hearing this song performed live in the Live Nassau Coliseum 1976 album was interesting confirmation that the song wasn't simply a studio experiment. Its magnetism was duplicated on stage, and Bowie's presence seeped through the headphones as every loud 34 year-old clap sounded off in succession from song to song.
Interestingly, the live portion of the reissue is at times more striking than the album itself. While Ziggy signified an era of exploration, the Ziggy discography remained a part of the act and Bowie was able to bring those songs to his audience without reviving their protagonist. As far as live albums go, Live Nassau Coliseum 1976 is one of the best I've ever heard, Bowie's stage presence and personality coming through as clearly as the recording. He cracks up during Changes and it's genuinely charming. Were it not part of the reissue, I would find it deserved its own release.
And though I think owning the live album is reason enough to purchase the reissue, it you don't already own Station To Station, I consider it essential. Aside from the entrancing title track, Golden Years remains one of Bowie's best and most recognizable singles, his vocal effortlessly sly and that snapped-clapped intrusion on its melody impossible to forget.
Word On A Wing is interestingly hymn-like and communicates an insecurity that underlies the Duke's persona. Bowie sings, "My prayer flies like a word on a wing/Does my prayer fit in with your scheme of things?" He exudes tired desperation, almost as if he's exhausted with himself and looking for a way out and some help getting there.
The cosmetically jovial TVC-15 details an affair with television, ("Transition/Transmission"), and Stay plays out bass-laden rock funk indicative of other drug-induced blue-eyed soul groups like Steely Dan. It's a smoothly channeled track aware enough of its flow that it plays long after Bowie runs out of things to sing about.
Closing out Station To Station is Wild Is The Wind, a ballad penned by Dimitri Tiomkin and Ned Washington. Nina Simone's version had gained affection from Bowie and winds up a despairing though impassioned finale to the album, which remains a vital, though singular, stop in a progressive journey. Eventually, Bowie had to get away, the Thin White Duke's excesses serving well enough to create a groundbreaking album, but cultivating a personality that could only lead to nowhere.
13 September, 2010 - 17:05 — Sean Caldwell