Music Reviews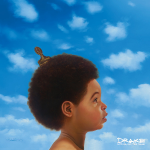 Drake Nothing Was the Same
(Cash Money / Young Money Entertainment / Universal Republic)

Started from the bottom now we here: much has been made of the bottom, and I'd been an arse to discuss it further, but where exactly is the here? A Best Rap Album Grammy for 2011's Take Care, two platinum selling albums, the record number of No. 1 hits on the Billboard Hot Rap Songs chart with fourteen, and similarly as a rap artist, the most No. 1 hits on the Billboard Hot R&B/Hip-Hop Songs chart with 11. Not a bad place to be for someone still only 26 years of age. Drake's boast on pre-album single 5AM in Toronto about his ability to make song a hit seems perfectly reasonable looking at these statistics: just how many artists have recently ridden his coattails (presumably designer) to fame aided by one of his guest verses?
Bucking the trend of difficult sophomore releases, Take Care was in fact a superior product to its predecessor and rushed debut So Far Gone. With the help of Noah "40" Shebib, a more considered approach and a cornucopia of producing talent, Take Care had near perfect command of mood in its tonal shifts, demonstrating both Graham's refined rapping confidence and his ear for a hook. Nothing Was the Same is somewhat a different prospect, further refined and with less fat on its bones, clocking in at a more reasonable 13 tracks totaling under 60 minutes compared to Take Care's 18 and 80. Proceedings are kicked off with Tuscan Leather, fairly unique in the fact that the beat doesn't just switch once, but twice. Just before the third kicks in, Drake exclaims, "How much time is this nigga spendin' on the intro?" and then spits over the best beat of the three. That's Drake to the core, a perfectionist unafraid of putting the hours and work in to achieve his goals. He may not be the most talented rapper out there, perhaps the Gary Neville of hip-hop (a bizarre image I know), but he's built himself an empire complete with the trophies to go with it where 40 is his co-ruler and enabler of his visions.
"Niggas talk more than bitches these days". Drake seems a bit too proud when he repeats this epiphany and proclaims, "Just let that shit sink in" on sparse cut Own It, but it's the truth. Just look at the furor and discussion surrounding Kendrick Lamar's Control verse, but at the end of the day isn't that what rap should be about? Striving for perfection and being better than your peers, even if you have to metaphorically "kill" your fellows to reach that hallowed place? Drake's raps never quite reach the heights of Lamar's: such is his truly mind blowing cadence and ability to write verses that posses triple meanings upon analysis, but Drake's flexibility is his weapon and that's always been his strength, which is evident throughout the album. There's the usual R&B crooning present in spades, but Drake always knows the right time and place to utilise a hook, something that is rightly praised about his output and provides his edge.
Hold On We're Going Home is possibly the best thing he's ever done, the heavy hitting 4/4 kick and snare covered by reverbed organ providing an anthemic feel. It's not witty, or even trying to be, but heartfelt and uncomplicated Drake at his best, with Majid Jordan's Jai Paul BTSTU-esque croons in all the right places. The video may be overblown and clichéd, but the song itself provides a breath of fresh air in the current staid and cluttered Top-40 musical landscape. It's just one of many highlights - the It's Yourz sampling "Wu Tang Forever" trading in Wu Grit for WD-40 Polish, the beautiful Too Much with its submerged Sampha vocals, and Pound Cake/ Paris Morton Music 2, where Jay-Z manages to assemble a rap using various forms of cake. Upsettingly, he fails to mention either urinal cakes or sponge cake, but it's forgivable when he's actually woken up from the wheel he appears to have been asleep at recently (before handing it over to Jesus with his final words), its cloud rap-esque beat providing a blissful finale (unless you're listening to the deluxe version, then TWOOOOOO CHAINNNNNZ also awaits).
Not every track here lives up to billing, however. Worst Behavior straddles a beat that sounds akin to a millipede on crack, and is grating to the ear when compared to the usual lush accompaniment you'd expect. Drake says little of relevance or interest in his indulgent self-absorption and navel gazing, repeating the same refrains and even reverts to borrowing the hook of Mo Money Mo Problems over what sounds like the abuse of kitchen implements. Worst behavior? Worst song on display, overlong, and not really of value to the overall album experience. 305 to My City is also painfully languid, chopped and screwed filler where Drake can't seem to decide whether to rap or sing that should really have just been chopped.
Nothing Was the Same is the work of someone who is not happy to sit on his laurels and determined to build, which is admirable in this day and age of get rich quick artists who quickly fade when they have to build upon and repeat their original success. Drake took full advantage of an unsettled hip-hop scene in the late 2000's, with few rap forerunners or rivals that could provide full lengths to be admired in years to come. Earl Sweatshirt, Kendrick Lamar, and a reinvigorated Danny Brown are now approaching full steam, but even once they reach their full potential Drake will still be near the top and sitting pretty due to his ability to innovate and adapt. There are certainly faults here to be rectified, but this album represents yet another very good entry in his discography, not spectacular but representative of what will likely be among the best 5 hip-hop albums of 2013 along with Brown and Sweatshirt's releases. Not a bad place to be when you started from the bottom, indeed.

14 October, 2013 - 04:58 — Richard Petty