Music Reviews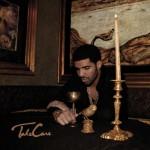 Drake Take Care
(Cash Money)

For megalomaniac artists, writing a record is the perfect way to spiel all the dirty laundry without taking any responsibility. Drake, hip-hop's quarter-aged wonder boy, is fast becoming a self-praising philanderer, the kind of guy who doesn't see any reason to be apologetic to his girl because fame is his new game. To be fair, this shouldn't be a surprise to anyone – in the Toronto rapper's vastly successful debut, Thank Me Later, his boastful flair documented the beginning of a rising artist who's determined to hit iconic status. While all this artificial audacity could pose as laughable considering it came right after his tv gig as the victim of sexual impotence in Degrassi: The Next Generation, it looks like the hazards of instant gratification are coming at breakneck speed without a possibility of maintaining an equilibrium.
In Take Care, Drake reflects different facets of his conflicted persona. Women continue to be the main force in his songs - he's consciously aware about what it takes to love them, but simply decides to thrust aside the guidelines because he's on an entirely different stratosphere from any female average joe. Whereas he used to rap about how his past relationships were slowly crumbling due to the demands of fame, now he's condemning them for not understanding what it is to be in his position. Mad cause he ain't like me/ Oh you mad cause nobody ever did it like me, he confesses in Shot at Me, in which he plainly addresses both of his exes for feeling animosity towards him when his love for them was worthy of trust.
Drizzy doesn't believe that the rule doesn't apply to him at the present time, but he's dead set on thinking that love makes the world go round – or at least sells records. In the slow-burning ballad Doing it Wrong, he questions the idea that true love is merely a picture frame when its run its course. If this wasn't enough of a mournful message, the song ends with a haunting harmonica solo by Steve Wonder that plays like the sullen counterpart to the open arms call of That's What Friends Are For. Marvin's Room further epitomizes a more confrontational side to his former genteel, in which he builds the drunken courage to own up to an ex about having sex four times a week with potential golddiggers while, of course, throwing a Sprite reference to keep up with his contractual sponsorship agreement.
If all this reads like barefaced misogyny, Drake does break Webster's Quotationary with a series of verses that really hit hard on his side, but that's just part of the old adage of keeping it real. In his world, he'll idolize (like in Make Me Proud, in which he credits a cameoing Nicki Minaj: that's why you want to have no sex, why you want to protest/why you want to fight for your right) as much as call out when one is ruthlessly conniving (and I be hearing the shit you say through the grapevine/ but jealousy is just love and hate at the same time). Any which way, Drake would feel incomplete without all his ephemeral relationships, which have taught him about how the female psyche works. He writes about them and for them. All the while, conceding that some are too good for him (I shouldn't be much longer but you shouldn't have to wait/ Can't lose you, can't help it, I'm so sorry, I'm so selfish). As cocksure as he appears, the oh so self-effacing Drizzy will need a thought provoking moral (sometimes I need that stripper that's gon' tell me that she can't dance), to remind himself that rejection happens to even the best of 'em.
Drake is now at an upper tier of pop performers, which should account for all the increasing hate he's getting from those who knew him before Lil' Wayne gave him the golden ticket. But that just makes for appealing drama, not to mention the fact that he's quite proving them wrong behind the studio console. He trumps his hitmaking mixtapes and fully commits through first proper foray into the album format with significant improvement – with his abettor Noah "40" Shebib beside him, Take Care's chilly, late night R&B slithers from lush synths and spectral piano keys to chest-thumping beats as his guttural cadence smears his refined urban soul. The slinky slow jam of Crew Love, with frequent collaborators The Weeknd, is oddly inventive (even with the unfortunate verse cause we flowing like a C4), as goes for the stomping double jab of We'll Be Fine and Make Me Proud. But the album's centerpiece is his collaboration with Rick Ross, Lord Knows, in which a cherubic choir and stinging percussion elevates the old school jam into a rousing epic soundscape.
Despite the fact that Drake has earned his place as one of pop music's biggest performers, he can't quite cope with his self-imposed rise to fame. The sluggish, languorous throb of Cameras puts it best, in which he exculpates all press machinations by stating how he's simply playing the PR script to lessen his girl's insecurities. Through Take Care, he incessantly justifies his actions and, like sticking it to the misfits for some self-respect, gloats about his successes without caring about any repercussions. If this is another horrid case of a deferential turned narcissistic young man (they love me like I'm Prince, new kid with the crown) camouflaging behind a sea of cash, he's also aware that he needs to step up his game so he can state his place among the rap elite. Just like he likes his women, with a future and a past, he's clinging to both time periods with equal measure. Or maybe he just likes tits and ass. Either way you bend it, his confessional accounts on how men view the female gender is all too relatable under any context.
14 November, 2011 - 04:05 — Juan Edgardo Rodriguez