Music Reviews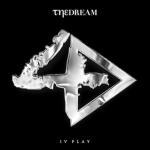 The-Dream IV Play
(Def Jam)
Buy it from Insound

There have been major disturbances in the R&B scene since The-Dream released his last "proper" album Love King in 2010. Back then, he was producing the most consistent R&B full lengths out there, but in his absence things have drastically changed. We've seen the arrival of Frank Ocean with flowing and poignant lyricism unmatched amongst his peers, The Weeknd with mysticism and levels of debauchery off the scale, and Miguel, the showman who backs his modern day Prince flamboyancy with the guitar mastery and voice to match. IV Play has been gestating for nearly 3 years now, somewhat eased by the release of the free mixtape 1977 in 2011, and given the fact that Terius Nash's previous 3 studio albums were all released within a 3 year span, you'd be forgiven for expecting something extra special here.
Unfortunately, after several listens it's clear that's not the case. This is an album of average to good songs, with only a few highlights. There's nothing that matches up to the triple threat of Yamaha/ Nikki Part 2/ Abyss on Love King, and its crying out for the presence of a real standout song, although Michael comes close. It seems so long ago that Body Work/ Fuck My Brains Out was "released" in preparation for this album, but it would definitely have been a notch above most of the material on show here. This is The-Dream working on autopilot, and whilst his model is a cut above that of a Chris Brown or an Usher, it's a disappointment when you know that he's capable of so much more. The album feels rushed, likely due to Nash's label responsibilities elsewhere and a lot of the production feels like notes and sketches that were never fully fleshed out. Title track IV Play even uses the same drum sequence as Falsetto from Lovehate, although slightly distorted.
Some of the lyricism is downright lazy, eschewing the usual clever sexual double entendres and nudge nudge wink imagery for easily done explicit verses, Pussy being the main culprit, "Got my left hand on that booty got my right hand on that pussy". Nash has clearly taken inspiration from his hip-hop contemporaries in this sense, with many songs displaying the influence of modern day excesses in hip-hop. The favours have obviously been called in on IV Play for the work he's undertaken for various artists, but few of them fully repay their debt owed for Nash's sterling musical accompaniment on their solo work. Jay Z appears on the first track and it's the rapping equivalent of being asleep at the wheel, Kelly Rowland actually succeeds in being a worthwhile presence, whilst 2 Chainz turns in yet another punchline rap without substance. Another disappointing element is The-Dream's reversion to using the crutch of so many R&B singers - using autotune far too often. Fair enough, his voice isn't the greatest present in the genre, but the way he utilises it is downright lazy.
Thankfully, this album does succeed in the sense it's a lot less self centred and, therefore, varied than 1977. Fair enough: it was originally released for free as a mixtape before last year's re-release and spitshine, but the bitterness became too hard to bear over the full length. Hopefully the release of this album after several delays and many track changes has taken some of the weight and pressure off Nash's shoulders of producing a follow up to Love King, and perhaps his next effort will confirm he still has the tools in his arsenal to compete with the new generation of R&B up and comers.

10 June, 2013 - 04:02 — Richard Petty