Music Reviews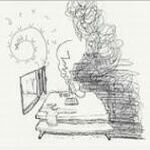 Drowsy Growing Green
(Fat Cat)
Buy it from Insound

Drowsy is the nom-de-plume of Mauri Haikenen, a 22-year-old Finnish singer songwriter out of the village of Joutseno. I asked a Finnish friend of mine where that is, and she said she didn't know, and it's not on any maps I could find, so I suspect it's pretty small. This is his first release since the 2001 FatCat 7" Careless Me.
Growing Green is the product of a curious process; rather than the result of a series of recording sessions followed by editing, mixing and such, the album was collated over three years as Haikenen laid down his songs in this front room and sent them to FatCat. What is curious is that in his northern isolation, Haikenen has recorded a beautiful album informed by a rich folk heritage stretching from singer-songwriters such as Dylan or Syd Barrett, and including other lone troubadours like Leonard Cohen or Tom Waits. The recordings are full of darkly surreal humour, rural cosmology and early-morning coffee and cigarettes meditation. And while this is an album informed by tradition and at times as old as the cracked bark on an ancient oak - as on the raspy ballad I Died of Death - it's also pleasantly contemporary and at times even up beat. Bright Dawn sounds like Beck minus downers on Mutations, while Great Scintillates is the Bagpuss theme tune about to leave for military service. There are, of course, curious moments; a broken music box opens Plim Plon Autumn Song, and throughout there are mispronunciations (I think he's trying to say 'Breakfast' on Bright Dawn) noises off, and the occasional interloper shuffling in the background. But none of his detracts; in fact, alongside the uniquely aged voice, warm piano and acoustic guitars, passionate playing and curious world-view, it adds to the organicity and humanity of the work, just as one would not complain about finding an old encyclopaedia covered in dust.
Apparently Haikenen has now finished his National Service and is devoting more time to live shows and touring. I hope so. This a fine full-length debut, soulful, worldly, heartfelt and wise. Great things to come, I suspect.
13 March, 2005 - 00:00 — Ben Bollig