Music Reviews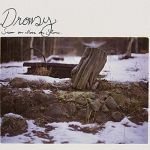 Drowsy Snow on Moss on Stone
(Fat Cat)

Drowsy's debut album, one of a collection of clever, quiet folksy recent albums was quite surprisingly one of my favourites of last year and did rather nicely in the printed media's reviews. Drowsy is a 23-yr old musician from Finland, Mauri Haikenen, blessed with a voice that sounds at least double his age, and a quirky, wintry song-writing talent. Growing Green was very audibly recorded in piecemeal fashion over several years in what appeared to be a shed; on several occasions the album is disturbed by the sound of a door opening, someone moving around in the background, or even having a quiet chat; indeed its recording was even interrupted by the singer having to complete his military service. Yet its aesthetic - folk tunes, sung quietly yet passionately, with minimal accompaniments - was enough to carry the day.
Although Mauri has recently moved to Helsinki, this follow-up, Snow on Moss on Stone, was recorded back in his remote home village, Joutseno, in the south of Finland. Again, there's a distinctly cold and isolated feeling but also great human warmth, some homespun tales, and that voice as old as the very stone on which the moss and snow have chosen to reside. Opener, Bakery, is a surprisingly upbeat beginning, which briefly sounds like someone taking the piss out of morning assembly songs, before settling down into the type of bluesy chant Haikenen does so well. Hues is a thorough contrast: the rasping, almost whispered voice that characterised Growing Green, with the very subtlest of plucked guitar in the background. While comparisons are often made to folky quietists like Adem and Iron and Wine, I would prefer to think of Drowsy as something like a one-man Calexico, another band possessing an earthy wisdom all its own.
Another subtle change is the presence of another musician on this outing, to whit Odkid (a nickname, one presumes), Mauri's cousin, who adds his disorderly bass to the minor riot that is Treehouse or the reflective and touching Go Well. As the work progresses, Drowsy engages you in a musical and lyrical cosmology with reflections on traditional life, folk wisdom, and the good times past, while spanning musical emotions from intense melancholy to sheer untrammelled joy, as on the opening of Good Od Odd Gold, or melodic reflection, on When It'll be Snowing. Off You Go All Authors could be a shaman song for the modern age. Pianos, organs, accordions and subtle-fx are the accompaniments in varying proportions throughout.
Snow on Moss is very much what I'd hope for when hearing Growing Green; Drowsy is a singer-songwriter with maturity beyond his years, and a rare individual talent. This album sees his developing into quite a little star.
5 March, 2006 - 00:00 — Ben Bollig