Music Reviews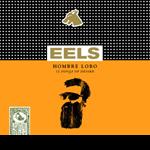 Eels Hombre Lobo
(Vagrant)

Eels albums tends to be varied affairs, always resting on Mark Oliver Everett's (aka E) ability to approach heart-wrenching topics with directness and tempered honesty. This formula produced his best album in seven years with his last effort,
Blinking Lights and Other Revelations.
Hombre Lobo
(meaning wolf-man) borrows from that album while complementing the rest of his diverse discography. It's being billed as "12 Songs of Desire" and that's the hirsute E on the cover. Maybe he's getting psyched over that Twilight and New Moon franchise stuff, gunning for a spot on the soundtrack. Either way the theme here is desire, and like his musical methods, E's desires are warm-blooded and wide-ranging, heart-broken, but hopeful.
Many of these songs can be traced back to sister songs appearing on earlier outings.
All the Beautiful Things
uses a familiar Eels chord progression akin to
Grace Kelly Blues.
The Longing
is a stark funeral-type dirge that would've fit nicely on
Blinking Lights.
On
Blinking Lights
we had the go-get-em attitude of
Hey Man (Now You're Really Living).
Here, curiously hidden at track 11, the infectious pop of
Beginner's Luck
fits that bill. This sunny little gem is the kind of thing that's sure to get Eels on more rom-com soundtracks. Even though much of
Hombre Lobo
is reminiscent of some older Eels songs it's hard to complain when this new batch matches the best of the earlier work and is presented in such a concise, honest context.
Prizefighter
opens the disc with simple under-produced riffage. This is more rough, raw and carefree than Eels have sounded in a long time. The trend of minimal production continues as songs alternate between up-tempo rockers and mellow acoustic wanderings. On
Tremendous Dynamite
E toys with rowdy, fuzzed-out blues and on
Fresh Blood
the lycanthropic E literally howls over a foreboding drum and bass groove. Darkly hedonistic, the track obviously played a part in inspiring the album's title, but there is another side to the album's theme of desire, more than just the animalistic.
In addition to the frayed-edges garage rock, E includes many songs to be held gently in cupped hands, and as always these quiet moments of poignancy work the best.
My Timing is Off
is E at his most contemplative, offering touching commentary in layman's terms. "
Believe it or not / We don't have a choice 
In matters of the heart." Such sentiments coming from E's weathered, cigar-smoke-filled throat maintain a certain gravitas that might sound tacky if anyone else laid them over a bed of strings.
As always, he can come off as a sad sack, but always a passionate and hopeful sack at that.
Unlike the elegantly beautiful, but sprawling double album
Blinking Lights,
the lean
Hombre Lobo
shows restraint. The theme is relatable, and relevant because it encompasses more than that one side of desire we all expect to hear about. This exploration and focus is what held together Eels' 1998 masterwork,
Electro-Shock Blues.
It does the same here. While the themes remain cordial, E uses his tapestry of styles to exist without an expiration date in a world prone to spoilage.
5 June, 2009 - 21:12 — Brett Oronzio