Music Reviews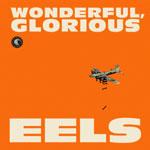 Eels Wonderful, Glorious
(Vagrant)

The Eels frontman, E (AKA, Mark Everet), has always been a bit of a downer, and understandably so: after the release of his first album Beautiful Freak, he was blindsided by the suicide of his sister and the terminal diagnosis of his mother. Ever since, he has worked through his grief by means of his music. His mourning was understandably all-encompassing, which often made listening to an Eels album a rather depressing affair. However, with the band's newest release, Wonderful, Glorious, E seems to have finally turned a brighter corner, but this new positivity comes with mixed results.
Keeping in step with the band's new attitude, the album sounds significantly different from the past few Eels albums. The opener, Bombs Away, fronts a solid beat and a staccato bass line that sounds like the soundtrack from a modern heist film. Several other songs build off of this groove heavy structure. Unlike the starkly minimalist structure of the past few albums, the band is really given a chance to shine throughout Wonderful, Glorious. These songs showcase an energy that has been largely absent throughout the Eels' despondent discography. Despite the band's bold and successful new sound, many of the best songs on Wonderful, Glorious, scale back the energy of the performance, as they did on past releases. On the Ropes, one of the best cuts on the album, avoids overwhelming listeners with distortion and other electronic trickery and focuses, instead, on a stunning blend of acoustic guitar and piano.
Despite the well executed instrumentation, lyrically, the album falls a bit flat. I am so happy that E has begun to recover from his depression. He seems to be having a legitimately good time on this album, though, now that he is out in the sun again, he seem to be a bit out of his element. Lines such as: oh man, feels so nice, that was a long cold night, but then the sun came out, to thaw the ice, on Peach Blossom, and I've had enough of being complacent, I've had enough of being the mouse, from Bombs Away, reveal a new, enlivened side of E that hasn't really come out in any of the band's previous releases, but his phrasing often comes off as awkward, and occasionally embarrassing. It really seems that E's gotten his mojo back, but I hate to say it, he seems to write better lyrics when he's sad.
Wonderful, Glorious is a solid Eels record, with some of the best arrangements they have ever written. However, despite E's sunny new disposition, the subpar lyrics drag the album down quite a bit. The album is good, despite these flaws, and I am truly happy that E has finally begun to emerge from the doldrums that have plagued him for almost a decade, but I can't wait to see how he weaves this positive outlook into his future releases.
5 February, 2013 - 04:30 — Walter Somerville