Music Reviews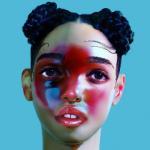 FKA Twigs LP1
(Young Turks)

Blurring the edge between sound and image, Tahilah Debrett Barnett has been quietly releasing a handful of noteworthy singles that bring us closer to understanding the true nature of her moniker FKA Twigs. Image is unquestionably rooted into her approach, and for a number of years it was a profitable undertaking. The British singer-songwriter had been featured as a backup dancer in several music videos, using body and movement to enlarge the appeal of those she was working for. These days, Twigs embraces her start, even if doing it as a job ended up being a demoralizing burden as well - Was she the girl that's from the video?, she mimics with eerie contempt on the track Video Girl", expressing how being the go-to dancer anchored feelings of dissolution and something of a loss of identity.
Since then, Twigs has taken center stage, saying goodbye to her days as a shimmying backup dancer to write synthetic pop music that means to push the boundaries of creativity. Her physicality was always the focal point of conversation, a pantomime that seduces with erratic motion and sultry, suggestive overtones. Using her image is almost second nature to her, and even if she now raises a veil of anonymity, it's merely another ploy to keep listeners guessing. The clanging sounds and metronomic beats that cloak her debut effort, the simply titled LP1, are just another way of adding mystery to a subject that was devoid of any visceral layer. It first comes across as desperate, even overreaching, until it begins to become clear that the only way Twigs can free herself from her confined space is to paint those four walls pitch black; entrapped and isolated, yet creatively unbounded.
That troubling and cryptic silence enraptures the cloistered atmosphere that Twigs presents on LP1, mincing trenchant sound bytes that convey a state of uncertainty amid depictions of unbridled sexual desire. Except they're counterbalanced by Twigs' salty, caramel vocals, warm and pleasing to the ear as she yearns for passionate release. She aches, boiling with jealousy and resentment with brash sincerity in Two Weeks, flaunting her sexual prowess with not-so-subtle allusions ("My thighs are apart for when you're ready to breathe in/Suck me up, I'm healing with all the shit you're dealing") as a series of monastic moans and dribbling bass throbs seize with unsettling ecstasy. The literal language she expresses is occasionally blunt, and in Pendulum she relates it with a weakened complexion ("I'm a sweet little love maker/finding time, to make my words better"), another biting remark to those who may have undermined her ambitions. Her constant shuffling from seductress to innocent victim can be amusing at first, but those bold declarations turn increasingly tame and nondescript as the album reaches its otherwise harmonically imaginative second half.
Much has been said about the musical direction Twigs takes with LP1, which melds dour electronic music with a suave blend of R&B in the same vein as other contemporaries such as How To Dress Well, Holy Other, and Purity Ring. And the album does break through in a variety of ways, especially in its meticulous attention to detail and very precise placement of disparate soundscapes. Space and intrusion are constantly at odds with each other, one moment wrestling for your attention, short of simulating a feeling of imprisonment, and other times giving you the room to absorb its sumptuous, effects-laden trickery. A vast number of producer-heads were in charge of giving it that frigid, grimy veneer - and the album's complex jumble of cosmic beats truly speaks for itself - yet it somehow never sacrifices a thematic cohesion in terms of pacing and sound design.
There is no single powerful element that obscures the other through LP1, however, and Bartlett's previous EP proves this is still very much her singular vision. She strides out with newfound independence, and the horribly bruised facade the album cover depicts is just one way of affirming that you're free to throw in whatever image you please. This is Twigs to her own accord, keen on tirelessly exploring the fine lines of love and lust. She ends up exhausted and weary after the experience, and proceeds to take a breather and engage in self-pleasure just as it ends. The same goes with the immaculately-produced LP1: all those flinching sounds can surely give some fatigue after a while, but does it matter when it's so good at instant gratification.
14 August, 2014 - 04:00 — Juan Edgardo Rodriguez