Music Reviews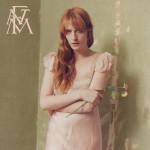 Florence and the Machine High As Hope
(Virgin EMI)

Florence and the Machine have always flirted with the idea of stripping their sound back. There's been a string of acoustic tracks released as extras - before the MTV Unplugged album - while 2015's How Big, How Blue, How Beautiful was billed as the album where the band properly committed to the idea - although few others would describe the theatrical, rock-driven album in the same way. So when Sky Full of Song was released as High as Hope's first single, a song that consists of little more than vocals and double bass, it seemed like this time around there may be the songs to back up the buzzwords.
A rich, florid sound should be a natural transition for the band; it allows breathing space for lyrics that have, increasingly, begun as poetry, while also allowing them to continue to appeal to both sides of the rock and pop aisles. They never commit fully, but there is enough of a change (guitars are almost entirely absent, for a start) that High As Hope does feel like a new step. Hunger, the second single but the obvious radio hit, feels like a perfect blend of old and new. It's more personal, detailing her problems with body disorders as a teenager, but also a show of strength and resilience. Welch's voice exudes confidence and barely allows herself to take a pause that lasts more than a beat. It's breathless and jolts around on a whim, just as all great Florence and the Machine songs do.
These tracks are like vignettes of youth, storms and tour stops, with South London Forever being one of the most evocative. It's a brooding track that considers the time she lost after the release of Lungs, a decade between being able to sneak onto museum roofs to not being able to walk down the same streets without being recognized. "Did I dream too big?" she asks, with flutters of Kamasi Washington's saxophone cutting through a choral mist. On Big God, the imposing, single-note piano sees Jamie xx's writing moved into more ornate surroundings, but he remains on usual form. Sky Full of Song takes the form of a traditional rock song and reduces it to almost nothing, slowed enough to feel a little weary. The restraint allows Welch to include some of her finest lyric-writing alongside the new ideas.
It'll be difficult to find a better run on a major pop album than from Hunger to Sky Full of Son. But then, almost suddenly during the second half, they seem to just run out of ideas, and Welch begins to return to old habits. By stripping everything back, it often ends up just being a distillation of their sound. The songs are familiar but frustratingly lack any colour or character. Grace, an apology-come-ballad for her sister, is sweet but remains frustratingly one-pace. While Patricia, a tribute to Patti Smith, is the swaggering rock song but one that had been done before (and better) on How Big, How Blue. No Choir makes sense as a closer; a soft, quiet song about finally being able to stock of her life between the on-stage highs and post-tour loneliness. The only respite on the second half is The End Of Love, a glittery piano ballad that gets the moment of catharsis her other efforts on the record lack. It feels like the most honest writing on the album, too, but it risks being lost in the middle of a lackluster run of tracks.
During the intimate warm-up shows that teased this record, Welch would reach out to touch those in the front rows, and in return they'd often hand back notes or flowers. It wouldn't be surprising if Welch sees High As Hope as her attempt at finally writing back. But with some beige production and a lack of ideas, this change of pace ends up being a better idea on paper.
11 July, 2018 - 04:13 — Matthew Smith