Music Reviews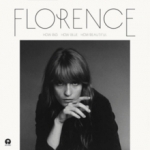 Florence and the Machine How Big, How Blue, How Beautiful
(Island Records)

Two ingredients for an artist's best work are talent and passion. You need both to create something that truly stands out. For the plenty-talented Florence and the Machine, the passion behind How Big, How Blue, How Beautiful comes from Welch righting herself after a chaotic year where she spiraled out of control. Here, Welch is exorcizing her internal and external demons in a tremendous display of songwriting and vocal prowess.
"Don't touch the sleeping pills, they mess with my head/Dredging up great white sharks, swimming in the bed," she sings on Ship to Wreck, over an electrifying R.E.M. jangle. On Queen of Peace, wind-swept strings give away to a hammering rock number where she puts herself in the role of a ruler. But even being on top of the world can't help her emotional turmoil, as she sings, "Suddenly I'm overcome/Dissolving like the setting sun/Like a boat into oblivion/Cause you're driving me away."
This album isn't just about regret though, as Welch looks back fondly at some of those memories lost in the wilderness. Delilah places Welch back in the middle of that pandemonium, as she tries to dance her way through danger with the eponymous character over the piano chords of Isabella Summers, AKA 'the Machine.' Welch admits that eventually she's going to be free and fine, "but maybe not tonight."
There are moments of peace as well, such as on the title track, where Welch is struck by the beauty of the clear, expansive Los Angeles sky. She even compares it to a "kiss upon the lips." The touches of brass and seesaw strings make an excellent backing for the song, but a perfect moment on this record comes in its coda, as the horns build and build on each other, creating the feeling of joyously flying into that endless blue. If there's a sound that can represent something as impossible as the sky, this is it.
Florence and the Machine's third effort also marks an improvement in Welch's vocal performance. Yes, that is possible. While Ceremonials was a decent album, it found itself stuck in a bit of a rut, as Welch wound up belting out lines consistently. The power of her voice is awe-inspiring, but when every song is turned up to 9 or 10, the extraordinary can quickly start to sound ordinary.
There's no such problem on this album, as Welch shows a level of restraint unseen from her so far. Her subtle performances on songs like
Various Storms & Saints
, where her effortless moves between pitch and flow show that intensity does not have to equal volume. With gentle guitar work in the background, all the focus is on her emotional pleas, making this song a definitive highlight. Similar is
St. Jude
, her ode to the patron saint of lost causes, which trades out guitars for smoky
synths
.
On the other end,
What Kind Of Man
lulls us in with a slow, low-key introduction, before erupting with stabs of electric guitar, pounding drums and bursts of trumpets. Welch channels her anger into her vocals, lashing out with lines about being made to
"dangle at a cruel angle"
and repeating other words with the force of a gunshot. It's one of the best songs she's ever written. The only other track that matches its power and ferocity is
Mother
, which moves from a
70s
blue-eyed torch song to a full-out rock anthem that careens into a tumultuous mixture of
synths
, guitars and percussion, with Welch in the eye of the storm.
But storms don't last forever.
How Big, How Blue, How Beautiful
is Welch's reflection on the chaos she found herself in. It's not exactly a purging, but a remembrance to that time in her life. For an artist, there's a certain attraction to letting go, just to see how far off the beaten path you can walk and still find your way back. Welch may have lost her bearings and been forced to confront
unpleasantries
that bubbled to the surface, but she tackled these problems the same way as her entire career: with power, passion and grace. The greater the risk, the greater the reward. And I can think of no better reward than this album.
15 June, 2015 - 04:06 — Joe Marvilli