Music Reviews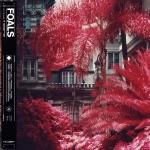 Foals Everything Not Saved Will Be Lost - Part 1
(Warner Bros.)

Foals bring with them an interesting discussion: can a band ever really be considered as great if they lack a great album? In the UK, the Oxford fourpiece (since the departure of bassist Walter Gervers in 2018) are one of the last survivors of the late-00s thanks to an incredible consistency and a couple of truly era-defining singles—but no album feels truly essential. The first three feel like they lack that final punch, while 2015's What Went Down went so punch-heavy that it left no room for the style or intricacies of their other work. It often sounded like they were trying to become another rock band.
After an almost five-year break, how does a band respond when their peers have disappeared and younger bands are creeping up on your patch? As it turns out, by producing their best album yet. It makes sense that Foals finally reach the level they've always promised—releasing a two-part indie-rock album about the perils of technology that is well-equipped to soundtrack the end of the world. Their music has always jumped between sharp, angular melodies and hazy sprawls, veering from frantic to completely futile.
Take On The Luna, which sees a return to the jilted, zippy hooks of Antidotes but with a much richer sound. The song, originally titled End of Days, offers no solutions but reflects the anxiety of someone watching the world fall apart. "Won't you come emancipator?" Yannis asks. It seems unlikely.
On Exits, the sound of a piano is interrupted by clean rapid-fire drums and a bassline that swaggers for the next six minutes— it's a sign that the band won't go down with a fight. There is the foundation of a radio single at its core—but that feels too easy—until a spindly hook deconstructs everything that came before. But even if the final chorus comes in two minutes before the end of the song, it's likely you'll still be the humming its wonderfully convoluted refrain: "They got exits covered, All the exits underground / I wish I could figure it out, but the world's upside down."
White Onions slides in as a reminder that Foals probably could release a 10-song album of straight-up indie rock bangers along the lines of Red Socks Pugie and Two Steps, Twice if they want to, while In Degrees is a song that revels in taking ridiculous turns. Sporting a funk bassline that leads to a chaotic conclusion—reminiscent of Remain in Light-era Talking Heads, it doesn't sound like anything else in Foals' catalog, but it might just better most of it.
There are also unexpected moments of experimentation. Cafe D'Athens sounds vaguely In Rainbows-esque, while Syrups is a subdued, meandering track that lacks some urgency. They both fall slightly flat compared to the bulk of the singles, even if it proves that the band isn't willing to rest on their laurels.
Despite the changes, Foals remain most reliable when they build towards a stadium-sized chorus. Over ten tracks (aside from Surf, Pt. 1, a 44-second interlude that does so much as tease the follow-up album due in the autumn), Foals create a testament to their longevity but also consider where this new era is going to take them. Is this Foals' first front-to-back essential record? Not quite, but with Pt.2 around the corner, it's surely just a matter of time. [Believe the Hype]
12 March, 2019 - 04:19 — Matthew Smith