Music Reviews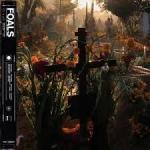 Foals Everything Not Saved Will Be Lost - Part 2
(Warner Bros.)

Foals have never been a band that wasted time with understatement, so it's surprising that, for the first time, they've delivered exactly what they promised. Ahead of the release of their second album of the year, they suggested this would be an album of What Went Down-styled bangers. And the result is pretty much that: Straightforward, heavy Foals, and, disappointingly, almost nothing else.
If there's a tenuous concept to the album, it's a response to the climate emergency. The first half was the sound of the world falling apart, and with Pt.2, the response. Maybe, rather than any kind of concept, the tracklisting is just a way of knowing they had a safety net to fall back on. If this was their comeback statement it would surely stand on its own well, but suffers in the shadow of what is their most exciting album in a decade.
It's not that these are just cast-offs or half-formed ideas, but it would be difficult to state a case that any one of these tracks is better than any of the tracks on Pt.1. There are tracks that will become live favourites, undoubtedly. The Runner is a swaggering anthem, while Black Bull is a distorted, claustrophobia-inducing banger. This is perhaps the sound that most people expected Foals to return to, and for good reason—because these are great singles, but it's not enough to build an album around.
Dreaming Of and Wash Off are enjoyable but forgettable, while anyone waiting months to hear what Surf, Pt.1 was going to drop into might be underwhelmed by Into the Surf instead of swirling aimlessly. Like Lightning mixes it up slightly, but the result ends up sounding like a Black Keys song that takes itself a little too seriously. But just before it's worth writing anyone off, there's Neptune, a track that shows just how good they can be when they just give themselves a bit of space. It's a gorgeous 10-minute epic that rewards the band for taking their time.
Pt.1 was such an exciting deviation for Foals that it would be disappoitning if it proved just a mere detour on their way to producing empty, arena-sized rock. Here, they not only return to their formula, but ramp it up to dangerous levels. It's brash, loud, and, ultimately, tiresome.
5 November, 2019 - 04:44 — Matthew Smith