Music Reviews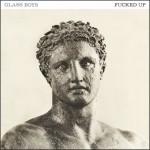 Fucked Up Glass Boys
(Matador)

Few punk bands enjoy a good challenge more than Toronto's Fucked Up, as the six-piece band has pushed the limits of punk and hardcore further and further with each release. But after releasing David Comes to Life, the epic, 18-track "rock opera" which the band referred to as the culmination of their entire career, I'd sympathize if they were a little nervous coming up with a follow up this time around (especially when some members even doubted the future of the group period). "Singles" Year of the Tiger and Year of the Dragon, with their 15+ minute expanses, hinted that there was no more room for small ideas for Fucked Up, but even with these colossal singles carrying the group forward, the idea of an album "bigger" than David Comes to Life from the six-piece still seemed like an unlikely feet for the band to accomplish…or even attempt.
So with Glass Boys, the bands shortest and most concise album yet, it comes as both a surprise and as something expected. It would have been somewhat foolish – and even a bit unnecessary – for Fucked Up to try their hand at topping the scale of David with another double-disc, rock-opera extravaganza, but at 10 tracks and 42 minutes, it does seem underwhelming by Fucked Up's standards (though still pretty hefty by the standards of most punk bands), and this fact alone can make Glass Boys an album easy to underestimate right off the bat. After pushing their sound and their ideas as close to the edge as ever, is it possible that Fucked Up might now just be interested in playing it safe?
Well, technically yes, but once you're knocked back by the neutron force of stellar opener Echo Boomer, you'll realize that there are definitely worse things that could have happened. Glass Boys may be the first time Fucked Up have resigned to simply making a tried-and-true "Fucked Up" album (like we even knew what that could have meant until now), but that doesn't mean their sound has gotten any less thrilling, rapturous, or just plain fun. This is dense, electrifying, hardcore-influenced stadium rock done with the bombastic rowdiness and finesse Fucked Up are experts at, and even though you'll rarely be surprised, these tracks will undoubtedly have you shaken.
It should be noted that while Fucked Up have always tried to push their parameters in different directions and distances, their overall "sound" has always been pretty easy to pin down, and on Glass Boys, it's no harder. Thick walls of anthemic, distorted power chords and floaty guitar leads coat pretty much every corner of the album, and that iconic, acid-soaked growl from shirtless frontman and general ambassador of hardcore Damien Abraham is no less completely unhinged as in past releases. But despite the band's punk and hardcore influences being incredibly apparent, Fucked Up's music has never really excelled by sounding angry or aggressive, but for its catchiness and tendency to approach grandness in an almost pretty, shoegazy way, and on Glass Boys, Fucked Up embrace these elements wholeheartedly. Sun Glass, for all its intense, blitzkrieg riffs, comes off as incredibly radiant and warm, with shimmering acoustic guitars and gentle backing vocals peppered throughout, while Paper the House, with an intro that would be well suited soundtracking a commercial for a tablet, feels like a new pinnacle of accessibility for the group, but is also one of the most fun, infectious, and flat-out best tracks on the album. It displays a confidence that Fucked Up have become known for where any fear of losing punk "cred" by sounding accessible or pretty is nonexistent, as the band is having way too much fun being themselves to care for such things.
But while there is certainly plenty to enjoy on Fucked Up's latest release, it's hard to deny that a few of its qualities can slightly hold it back. The album does hit a bit of a lull midway through, especially with the loose, five-minute Warm Change, which never manages to really jump out at you or stand out amongst its more energetic and bombastic counterparts as it slowly drifts into a jammy guitar lead and whirring organ. There are also a number of tracks that, while pretty great and electrifying regardless, will leave some fans with a feeling of déjà vu. DET, despite being one of the most harrowing and intense tracks on Glass Boys, bears a striking resemblance to David Comes to Life cut I Was There, and while the title track might be one of Fucked Up's most effective album closers and features some of the album's best, most affective lyrics, it's hard to shake the notion that much of the track musically feels like various riffs and leads from other Fucked Up tracks put together. It's this sense of familiarity that fans of the group will probably get from Glass Boys that might make the experience a tad less memorable than on past releases, even if that still leaves you with some pretty great moments regardless.
Still, none of this should take away from the fact that Glass Boys is a more than worthy accomplishment from a band that has been too busy playing by their own rules and constantly rewriting what it means to be punk to care about others expectations. If Fucked Up decided to tone back on the concepts and grand statements and settled on simply making a damn good Fucked Up album, then so be it! It still has more spark and vitality than many other rock albums in the past year, and that's with Fucked Up doing little more than being themselves. In resorting to tired dessert metaphors (because so much about Fucked Up's music makes you think of sweets), think of the band's past releases as increasingly higher and elaborate cakes while Glass Boys is a plate of warm, fresh chocolate chip cookies. You've definitely had that flavor before, and may seem insignificant following a luxurious, "Cake Boss" styled dessert, but damn if it doesn't still hit the spot.
6 June, 2014 - 04:46 — Peter Quinton