Music Reviews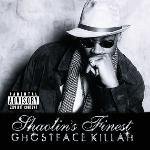 Ghostface Killah Shaolin's Finest: The Best of Ghostface Killah
(Epic)
Buy it from Insound

Wu-Tang Clan's resident space-age wordsmith Ghostface Killah aka Ironman aka Tony Starks closes out his contract with Epic Records by dropping a best-of compilation (in anticipation of a Def Jam debut this summer) that exemplifies the importance of the Staten Island conglomerate during their ten years and counting in the rap game.
Shaolin's Finest spans the three Ghostface solo releases, going back to the 1996 debut Ironman, an album (with the help of Raekwon) chock full of guns and cocaine that served as the precursor to modern-day wanna-be Gambinos littering the hip hop industry. But what is most intriguing about Ghost is the many personas he takes on in a single album, for every Poisonous Darts and Daytona 500 there are smoothed-out cuts such as Camay and the heartfelt classic All That I Got is You. And his biggest hit, the club-banger Cherchez LaGhost also appears, but don't get it twisted; Starks stays true to the game even with the lovey-dovey shit, a trick that multi-platinum, mainstream moguls such as Jay-Z and particularly Ja Rule have yet to pull off.
Yet the best aspect of GFK's game lies in his code-cracking, often ridiculous vernacular. Ghost has repeatedly proclaimed that delivering and deciphering his unique grasp of the lexicon is akin to "feeding a T-bone steak to a baby." Indeed some slept but many acknowledged his 1998 sophomore effort Supreme Clientele as the reigning pinnacle of Wu-Tang street slang, with Ghost lyrically bobbing and weaving through the RZA's stoned, oft-kilter beats. "Hit mics like Ted Koppel" Ghost declares on Child's Play while the triumphant crush of horns on Apollo Kids intensifies his flavorful freestyle flow (with the bellowing chorus "Hey yo these raps is like ziti" - What?).
Yes, this best-of is best served as an introduction for the non-Wu fanatic who has yet to understand about the man in terrycloth robes and Clarks Wallabees, and although much of the vaulted Starks material didn't make the list (B-sides such as Good Times, The Watch, The Odd Couple and Cobra Clutch to name a few) Shaolin's Finest is by far the best Wu compilation to date, and the most entertaining collection of tracks since the 1993 stunner Enter the 36 Chambers.
20 July, 2003 - 23:00 — Chris Conti