Music Reviews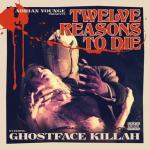 Ghostface Killah Twelve Reasons to Die
(Soul Temple Entertainment)

It's approaching the 20th anniversary of the release of Wu Tang clan's landmark debut, and Ghostface still retains a heavy presence in the hip-hop world. He's proved himself to be the most consistent Wu Gambino through his rapid workaholic output, releasing some of the few highlights of the 2000's sparse rap landscape, Fishscale accompanying albums such as Madvillainy in the decade's greatest rap releases. His flirtation with R&B and guest stars on Ghostdini: Wizard of Poetry in Emerald City proved to be a bit of a misstep, but the fairly low key release of its successor, Rise of the Apollo Kids, once again returned to friendly territory and strong rapping fare.
Usual verbal sparring partner Raekwon flirted with different producers to great success on 2009's Only Built 4 Cuban Linx 2, but Ghostface sticks to the classic operatic Wu formula that has carried them so far here, utilising sounds of the spaghetti western, soul and blaxploitation soundtracks to back his flows. Whereas commander in chief RZA is known for his superb & eclectic sample spotting, stand-in producer Andre Young does an excellent job with live instrumentation to recreate that sound, adding a sense of grandeur and period authenticity with cinematic vision to match the subject matter, at times evoking the work of Ennio Morricone during the album's most cinematic sequences. Sometimes, the beats can sound a bit too sticky but it's mainly impeccable stuff, likely helped by the fact that RZA serves as an executive producer, maintaining his tight standards and the Wu manifesto.
MF Doom, Ghost's frequent collaborator, has gained a reputation of using imposters to front his work, and Ghost has an absolutely uncanny vocal similarity with Action Bronson's voice, but this is unmistakably the work of Tony Starks throughout. His stream of consciousness flows, the rap game James Joyce remaining intact. Ghost is renowned for the quality of his storytelling, and here he recants a tale of falling in love with the daughter of a mafia boss, being shot for his infatuation and his soul pressed in wax and reincarnated when played so he can take revenge. It's far-fetched stuff and at times his lyricism falls short of the bar he set so stellarly high on albums like Supreme Clientele but it's still an enjoyable concept. In terms of guests, it's the more low key Wu members (U God, Cappadonna and Masta Killa) accompanying his rhymes. They do a decent job, but the presence of the calmer, metered bars of Raekwon, which create such a potent combination when combined Ghost's aggressive & energetic flows, are occasionally missed.
Twelve Reasons to Die doesn't quite carry the hefty weight of earlier works, but when those rank among the pinnacle of the genre, it's not to be expected. It definitely shows that Ghostface has still got something in the tank 20 years on from 36 Chambers for A Better Tomorrow, scheduled to drop in July. Here's hoping everyone else is still capable of bringing the ruckus.
29 April, 2013 - 04:41 — Richard Petty