Music Reviews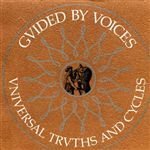 Guided By Voices Universal Truths And Cycles
(Matador)

True to GBV tradition, track four of Universal Truths And Cycles had started by the time I'd booted up my computer to write this. There are, predictably, a few songs here that don't manage to go over a minute in length, but following on from Do The Collapse they appear to have branched out into writing full on 3 minute slices of pop brilliance.
Guitar pop done by teachers in their 40's should not be this good. Some parts rock, some parts jangle (Cheyenne does both), all of it's great. Ironically, considering the teaching profession of Robert Pollard, this is US college rock at it's greatest: Anthemic, emotive, and vibrant. Melancholic, yes, but these songs cannot descend into navel gazing; they're far too busy leaping around to joyously bouncy guitar pop. Everywhere With Helicopter and Back To The Lake won't be able to avoid making the live set, just as audiences won't be able to remain still as they're played.
Gentler moments are offered by Pretty Bombs, which still continues to convey a perfect sense of melancholic optimism and joy. If there is any criticism to be made, a song like Eureka Signs is just so epic and anthemic it threatens to engulf the listener, who has no option but to cower as it soars above, dwarfing any music you've heard previously.
The unfeasibly productive Mr Pollard has reportedly dozens of albums yet to be released. Lets hope one day they are, and that they're all this good.
31 May, 2002 - 23:00 — Michael Richards