Music Reviews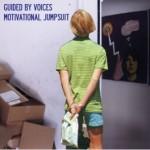 Guided By Voices Motivational Jumpsuit
(Fire Records)

It's hard to fault Guided By Voices' prolificacy, with the number of studio albums released now reaching into the 20's since the band's 2010 reformation reignited their fire. With a range of genres delved into each time they put ideas to record, there's always something to tickle everyone's fancy yet they are still mostly remembered for 1994's Bee Thousand - which is rather disappointing considering the quality of material issued both before and after. With three albums released in 2012 plus English Little League in 2013, Motivational Jumpsuit becomes the fifth release since the reunion instigated by Matador Records' 21st Anniversary, somewhat surprising considering the doubt expressed over future releases by chief songwriter Robert Pollard on several occasions.
Post-punk and psychedelia are the most frequent - and expected - influences on display. Opener Littlest League Possible is a short but satisfying raucous guitar post-punk fuzz that aptly declares "gonna have a lotta fun" in its opening lyrics. Similar efforts like the melodic Planet Score and the short blast of Difficult Outburst And Breakthrough continue the theme, reaching a highlight with the slower, heavy guitar plod of album title contributor Zero Elasticity.
The 60's psychedelic presence is ably represented by the guitar twang and catchy, simplistic and repetitive chorus of Save The Company, along with the Byrds-like jingle-jangle guitar based pop of Record Level Love, its harmonious vocals a joy. The Brian Jonestown Massacre-recalling Calling Up Washington and the distorted psychedelic swirl of Jupiter Spin add more weight to this genre, the latter featuring more gorgeously harmonious vocals to represent a highlight. The far slower Shine (Tomahawk Breath) is a melodic guitar fuzzfest, its superb yet non-indulgent solo conclusion stealing the show to produce another top effort, whilst fellow slowie Some Things Are Big And Some Things Are Small provides a further mellow imprint on a largely abrasive canvas. Lyrics also intrigue, with Writer's Bloc (Psycho All The Time) telling the tale of songwriting woes against a backdrop of persistent guitar riffing and ticking percussion.
There are oddities too: I Am Columbus sounds like Black Rebel Motorcycle Club sticking a stuttering, staccato Doors-like organ into its familiar fuzz, and the over distorted vocals that open Evangeline Dandelion are almost comical in their tongue-in-cheek delivery. Renowned for their ability to cram several ideas into the confines of one, very often microscopically short number, the listener never has time for boredom to set in. Occasionally though, like on the tedious and sparse Go Without Packing, it does feel as if every last drop of musical snippet is being squeezed out of Pollard's brain.
Motivational Jumpsuit can also frustrate at times: A Bird With No Name begins with basic acoustic guitar and vocals until it explodes into a cacophony of fuzzy noise before finishing too soon, just when you feel you're about to hear a new classic. Until Next Time is another culprit, again going from acoustic beginnings to brilliant electric guitar touches before stopping dead instead of building further. Alex And The Omegas follows a stop-start path in the style of Queens Of The Stone Age, but annoyingly concludes in an abrupt fashion instead of developing into the epic it could have been.
But in truth this feels like nitpicking. The weaknesses are outweighed by the strengths considerably, and so shouldn't detract from another impressive collection; how a band can keep producing music of relative significance in such a conveyor belt fashion is truly mystifying. How long it can continue is anyone's guess, but for now, enjoy it before Pollard gets another writers block.
17 February, 2014 - 04:44 — Graeme Marsh