Music Reviews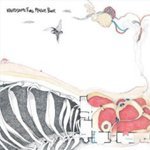 Handsome Furs Plague Park
(Sub Pop Records)
Buy it from Insound

Behind every great man there's a great woman, or so the saying goes.
Handsome Furs doesn't so much work off this logic as it does because of it. This sometimes derivative but always pleasurable alt-rock album, created by Wolf Parade's Dan Boeckner and his fiancée, Alexei Perry, is a testament to this fact, creating a moody and fluent excursion into an indie-electro world.
For all its stripping, Plague Parks never belies its hooks. A mesh of Feist dipped in machismo with an edgier Arcade Fire thrown in (there's a distant similarity between Boeckner and Arcade Fire's Wil Butler), Plague Parks begins in alt-rock fashion on What We Had, bringing in eclectic drums and country stand-off guitars, at once clean and then distorted for repressed anger's sake. It's a great opener which almost sets the rest of the album up to disappoint in comparison.
But Boeckner and Perry are skilled at what they do, and from the distortion heavy reverberations of Hearts of Iron, complemented by Boeckner's wrapped warbling, clean vocals, to the rattling guitars of Sing! Captain, Plague Park is varied enough to never stoop to meandering.
It's the lyrics that truly standout, from the contempt of loneliness in a small town of Sing! Captain ("I stood outside in the bright, black night, beneath their buzzing power lines and I saw a number in the sky") to the startling uncompromised depression of Dumb Animals ("Now that you realize it don't matter what's shining at night; I lost a lung, now it don't matter, I just stand to die"). It's here that Boeckner makes calculated use of his vocals, squeezing emotion out of every jittery shock of electronics. Here, on tracks like the heavily processed Dead + Rural, Boeckner suggests that he could be under-utilized under the indie rock bombast of Wolf Parade.
If anything, Handsome Furs just proves that Boeckner is strongest when he's low-key, his wife a shadow looming over his shoulder and making herself noticeable in every aspect. Plague Park works because of their companionship. It may not translate well to the stage, but for a midnight romp through the bedroom, this might be well suited.
10 June, 2007 - 18:39 — Lewis Parry