Music Reviews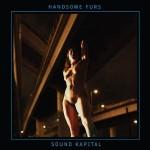 Handsome Furs Sound Kapital
(Sub Pop)
Buy it from Insound

Much of what can be said about Dan Boekner relates in some way to the undeniably brilliant partnership in Wolf Parade between he and bandmate Spencer Krug. But with an indefinite hiatus throwing Wolf Parade onto the backburner and pushing solo projects from both Krug and Boeckner to the foreground (Krug released his first album as Moonface not too long ago), Boekner has invested much of his energy into Handsome Furs with wife Alexei Perry. Unlike Krug, whose solo release had fallen victim to unrestricted freedom, Boekner and Perry has honed a craft of electronica that ranks well with anything Wolf Parade has recorded. It can be argued that many of the songs on Handsome Furs' latest, Sound Kapital, surpass what Wolf Parade released on At Mount Zoomer and Expo 86. This speaks volumes for HF, whose debut was at best a sloppy display of bedroom electronica at its most monotonous. Their progression has singled out Boekner as the heir apparent to the leftover Wolf Parade fans.
Sound Kapital, in its deepest essence, is the perfect stroke of mature artistry – fans are familiar enough with Boekner's back catalogue to know that this is not a mere hype release. Any praise from here on out therefore is strictly based on the notion that Sound Kapital may very well be one of the few great albums of the year. And fortunately, anyone to listen to the opener When I Get Back and recognize the emotional energy, Boeckner's vocal hooks, and superb synth work from Perry should be quick to agree. The influences span from Bauhaus to Killing Joke, bringing industrial punk to cuts like Damage, while the open arms incorporation of a piercing synth binge on the breakdown of Serve the People. It's a welcome improvement to 2009's Face Control, which, while it wasn't exactly a bad album, could be seen as more of a complementing release – something to hold over until the next Wolf Parade album. Sound Kapital is miles from Wolf Parade, further proving that, for Boeckner, his work in Wolf Parade was only one chapter in his career.
The pulse of tracks like Bury Me Standing, Memories of the Future, and Cheap Music pursue a sound that, while borrowing from the collective of 80s industrial and new wave, pierces a new standard of influence and recharges what made those original albums so commanding. Sound Kapital dismisses its bland past and persists in creating one of the definitive albums of modern electronica pop. It's the memorable melodies and coarse voice that remind us of Shine a Light, but it's an astounding metamorphosis nonetheless. To those reluctant to praise the synth revival in the past few years (or those still waiting for The Strokes to make another half-decent album), you'd be well-advised to invest some time in Handsome Furs. And Sound Kapital, with its concise length and sound quality (omit none of these songs), should be the flagship for such a shift. Spencer Krug should take note.
5 September, 2011 - 05:13 — David Hogg