Music Reviews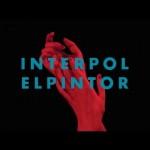 Interpol El Pintor
(Matador)
Buy it from Insound

In retrospect, Interpol will always be remembered for succeeding at playing the tired aesthetic of post-punk gloom by tweaking it with a highly tuneful sound coupled with emotionally dense prose. They're responsible for some of the most incomprehensible sing-along choruses in recent history, abstractions without any intrinsic value, but they know to unleash a powerful hook at just the right time. There was also something seductive about their black-clad, cosmopolitan image, which created a polarizing effect amongst purists who thought the stylistic makeover was futile, a distraction to promote the dank allure of early 21st century New York cool. They arrived with such fully formed flair that it was impossible to top, and it would only please those who were convinced, and content, with the idea that they weren't going to necessarily evolve in the ensuing years.
It's been a plodding fourteen years for Interpol, who still enjoy the privilege of filling a decent-sized theater over the strength of their most admired releases Turn On The Bright Lights and Antics. El Pintor, their fifth release and first after a four year break after pursuing other projects, means to revisit the band's knack for spindly guitars lines and faster tempos instead of stretching out dreary song structures with an almost anonymous presence. Their return is not a departure, or a comeback, more so an amalgamation of the chances they've taken natural to a band who felt it was necessarily to progress from a craftsmanlike approach to achieve a balance of pep and morose efficiency. And to an extent, they excel at doing just that - working musicians with a tight and structural backbone who can still come together and churn out a collection of appetizingly monochromatic tunes.
Perceptive listeners quickly took notice of how Interpol's new guise has a striking resemblance to Antics, and the buoyant swing of first single All The Rage Back Home practically drapes a white sheet over the barred windows that prevented them from expressing any emotion in their wretchedly irresolute self titled release. A glimpse of dark energy still seeps in, how it's layered with a pristine, chiaroscuro overlay that reaches a grander scale once Daniel Kessler lets loose those crescendoing highs in the song's thrilling climax. It gives the impression we're witnessing a newfound freedom in their artistry, until they confirm such to be true with My Desire, arguably the most accomplished track they're written since Our Love To Admire closer The Lighthouse. That substantial theatricality is often a key component in their work, and they demonstrate it fully - "Play me out, lay me out/It's time we change the heart", cries Paul Banks with startling clarity, sustaining a tense rhythmic pulse until it shoots into a cosmic interplay of glimmering riffs streaking from a distance. It's peculiar why it shows up early on, and being the album's bedizened centerpiece (not to mention longest), it would've been more effective later into the sequence after giving it some time to surge forward.
Interpol do cozy up quickly into more standard form with a number of ready-made songs bursting with singles potential, though: Anywhere is a taut, muscular rocker that somehow bridges the jerky furor of Obstacle 1 with the slightly slower Slow Hands, and the final stretch consisting of Ancient Ways and Tidal Wave are kept in rigid lockstep with the slight difference that the latter finds any excuse to blurt out its song title, albeit in a lethargic, muted tone. Ancient Ways, in particular, just brims with jubilant despair, punctuated with a high tension - and the defiant opening lyrical statement "Oooh, fuck the ancient ways", a crowd warmer comparable to Evil's "Rosemary/Heaven restores you in life" - that's about as close to an action sequence as it can get with its shuffling drum patters and rushed, circuitous guitar tone. Which is why the echoing, distortion-filled release of Everything Is Wrong is a welcome change of pace, though if it weren't for its compact, Explosions in the Sky-sounding tremolo chord it'd be another swelling mid-tempo rocker.
There's another side to El Pintor as well, one that favors space and subtlety over quick-witted precision, which mostly sulks into an ambient groove to lets its incessant repetition spiral into something sinister. But despite the album's attempts at merging both with an overcast aura, it also suffers from a lack of danger and visceral intensity. Interpol are looser and more refined than they've ever been, but they're also subsumed into a middle ground, embracing their limitations as songwriters and giving in to soaring, yet frigid melodies that offer few surprises. The band fails to produce even one obvious dud, carefully sculpted songs that careen from moody introspection to alt rock rippers with the ability to easily please, a clinical approach they've retained for the past seven (some would say even ten) years. El Pintor isn't a rekindling of old fires, more so a chilled, mutual acceptance from a band that is letting things roll as smoothly as can be.
7 September, 2014 - 04:58 — Juan Edgardo Rodriguez