Music Reviews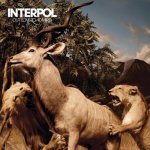 Interpol Our Love To Admire
(Capitol / Parlophone)

Back in January 2003 I interviewed Interpol's Sam Fogarino for this very site. A month earlier we had named the band's sensational debut Turn on the Bright Lights our #2 record of 2002. Our conversation focussed on the band's beginnings, the success of its debut and of course the effect - and questionable validity - of those already tiresome Joy Division comparisons.
Even six months after its release, Sam seemed genuinely staggered at how many copies of Bright Lights had been sold admitting "I don't think that any band I've ever loved, aside from the Beatles or something classic like that, has sold a hundred thousand copies, you know? It's kind of strange to be in that bracket. But on the other hand it's great. All you can do is be thankful and concentrate on what's important and that's making sure your music doesn't suck."
The band's 2004 follow-up, the slightly more light-hearted Antics certainly didn't. It made #3 in our end of year list, spawned three genuine hit singles, and while time hasn't been as kind to that record as it has to Bright Lights (an album which for me remains up there with any indie-rock release this decade) it's still a solid and rewarding listen.
Coming as it does after a three year absence, the band's third album marks a new era in its career. Our Love to Admire is also the first fruit of its relationship with major labels Capitol in the US and Parlophone in the UK. It's the same band, of course, just a different bracket as Sam would put it.
You've probably heard lead single The Heinrich Maneuver already. A rhythmically taut, lyrically caustic track directed at a West Coast ex, it's one of Interpol's best pop moments to date. On the album the track segues into another highlight, the tense Mammoth, which is really all about Kessler and Banks' guitar interplay. The moody breakdown recalls earlier works like NYC while the angular riffing that follows lends the track a poppier feel. The only downside here is that Fogarino and bassist Carlos Dengler seem to be operating on very much in the background. Opener Pioneer to the Falls is another noteworthy moment; much has been written already about the track's rather unusual oboe melody but for me the real star here is Banks, whose vocal has never sounded richer. His performance here should put those Ian Curtis comparisons to bed once and for all.
The biggest departure for Interpol is undoubtedly Lighthouse. A ghostly, rapidly strummed guitar and some subtle atmospherics provide a sparse canvas for Banks' abstract musings ("And I warned them / I face the storms at the tides / from the lighthouse") before the rest of the band joins the party for a funereal march towards the finish line. It's different but it works.
The same can not be said for all of Our Love to Admire, however.
No I in Threesome aims for the skies - it's probably the next single - but fares less well than the more overtly conventional The Heinrich Maneuver. The track possesses a grandiose feel that is failed by the clumsy teenage fantasy of Banks' lyrics ("Babe it's time we give something new a try"; "there's no "I" in threesome / and I am all for it"). The turgid Scale and the one-paced Pace is the Trick on the other hand just never get going.
The band has claimed that keyboards played a more important role in the songwriting process this time round. Perhaps this is telling as Our Love to Admire's lesser tracks seem to have placed a greater emphasis on texture than melody or even rhythm, which is arguably the band's most potent weapon.
As a whole, though, Sam Fogarino will be satisfied: Interpol's third long player definitely doesn't suck - in fact few established indie rock acts have scaled these heights in 2007 - but when the dust settles I doubt that Our Love to Admire will remembered with the same fondness as the band's superior indie label efforts.
14 July, 2007 - 01:49 — David Coleman