Music Reviews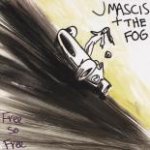 J Mascis Free So Free
(Ultimatum)

If time was not against me, I could drone about the relative merits of Dinosaur Jr for a very long time. Unfortunately, my ridiculous workload and limited energy supply have combined to save you from what my have been a very tedious introduction. A concise version follows - die-hard fans have my permission to skip to paragraph 3 (otherwise known as "the interesting bit").
Starting life in the glorious mid-eighties, Dinosaur Jr released three critical acclaimed albums on various indie labels (Homestead, SST) before signing to the "friendly" major, Blanco Y Negro. Another four studio albums followed but, with the exception of Green Mind, they lacked the energy and unpredictability of the band's earlier efforts. After the release of 1997's Hand It Over, J Mascis closed the book on Dinosaur Jr in order to continue a solo career which began in earnest with Dinosaur's 1991 album, Green Mind. With the help of a few session musicians (The Fog) and a certain Kevin Shields, Mascis returned in 2000 with the critically acclaimed More Light.
Free So Free is Mascis' second album with The Fog and although none of the tracks see him breaking new ground, most are well worth a listen. If That's How It's Gotta Be and Bobbin (an old man's Sludgefeast anyone?) are initial standouts but Set Us Free and the deliciously dreamy Someone Said also deserve a mention.
An unhealthy interest in the concept of freedom aside, Free So Free is a strong collection of songs that shows Mascis on top songwriting form. Ok, so lyrically he'll never provide us with answers to the world's problems but when it comes to unfeasibly melodic guitar riffs that never once veer into the realms of cliches remains the undisputed King. Long may he continue to reign.
10 October, 2002 - 23:00 — David Coleman