Music Reviews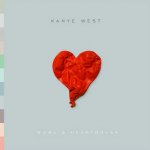 Kanye West 808s & Heartbreak
(Universal Music)

For an artist who once claimed he wanted to be the biggest pop star in the word, Kanye West has ridden on the success of the same winning formula for some time now. And as fun as those big, brash summer singalongs with Chris Martin are, something more is needed if this artist is going to change our lives and reinvent music like he has boasted. And West's fourth album, 808s & Heartbreak, delivers that departure from the familiar. West explores new musical directions but perhaps the biggest transformation here is not so much Kanye the hip-hop rapper to Kanye the synth-popper but the revelation that underneath all the bravado, there's fragility and emotion.
This album has largely been inspired by recent events in West's life, namely the passing of his mother and split with fiancée. It only seems fitting that such a context has resulted in West exploring radically different sonic and vocal terrain. Much has been made of his decision to employ the voice-perfecting Auto-Tune software which alters his voice in terms of pitch and gives it a smooth, clear quality. However such a technique was not used to hide vocal imperfections or mimic the success of other R&B singers, rather it was the perfect option for creating this album. Although it may seem a contradiction to sing about heartbreak in such an indifferent way, the technique enhances West's sense of loneliness and isolation. His voice bleeds into the mixture of raw percussion and moody, distorted synthesizers so that it all becomes a singular expression of heartache.
The wonderful thing about this album is that it is able to create and sustain a specific sense of mood, a delicate mix of melancholy, self doubt, regret and occasionally, hope. This is why Heartbreak deserves to be considered as an album rather than a bunch of tracks to be included on iPod playlists. The album's opening track Say You Will sets the mood with two synth notes beeping back and forth, desolate and bleak. In fact, the song is chiefly comprised of these two notes, backed by a haunting synth choir and drums, and its extended outro reminds us that West's heartbreak is defeating and relentless. Welcome to Heartbreak builds on West's isolation as he reflects on a shallow existence singing lines like "My friend shows me pictures of his kids / And all I could show him was pictures of my cribs."

Heartbreak really takes off with lead single Love Lockdown, a track which opens and closes with a bass tone resembling a heartbeat. The song rebounds back and forth between heartfelt crooning and dynamic tribal drumming, creating a mood which is brooding and compelling. Another standout track on the album Paranoid catches you with a surprisingly lovely pulsating melody which almost glimmers its way underneath the song until the drums kick in and West delivers the biting line "you worry about the wrong thing" to an insecure ex. However the chorus line of "they'll never know you like I do" suggests an affection West still holds for his ex and hints at ties that can never truly be severed.
The beautifully realised Streetlights is the album's most poignant moment, rising above the cathartic but perhaps slightly self-indulgent finger-wagging which preceded it. The song merges a nostalgic sadness with a sense of resolution and acknowledgement that while he has not quite emerged on the other side yet, West will be just fine. Gradually building up to an almost dream like quality, lush back-up vocals accompany West as he sings of streets lights passing by like memories and time. This is melancholy at its warmest and most irresistible.
Interestingly where Heartbreak falters is where West introduces outsiders. While the tracks featuring guests, Amazing with Jeezy and See You In My Nightmares with Lil Wayne, may prove more commercially viable, the thug like vocals of both disrupt the introspective flow of Heartbreak. The live closer Pinnochio Story similarly seems tacked on to an album which would have ended perfectly with Coldest Winter, an ode to his late mother. Lyrically this album is not as strong as prior efforts but at the same time this generates a newfound universality in West's music, where the mood created by this collection of songs is as important as their lyrical content.
Unsurprisingly Heartbreak is a grower. At first it does sound minimalist and sparse but the album is layered with delicacy and marked with a maturity. The thing about a truly great artist, one that wants to change popular music itself like a Dylan or a Gaye, is that he needs to push boundaries even if it may initially disappoint or divide fans. An artist has to aim for growth and reinvention even if he stumbles and overreaches. Perhaps West's ambition occasionally exceeds his execution but there is something bold and remarkable in a musician like West who has set their sights so admirably high.
21 December, 2008 - 09:51 — Cara Nash