Music Reviews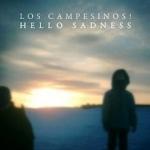 Los Campesinos! Hello Sadness
(Wichita)
Buy it from Insound

Los Campesinos! have produced this year exactly the record they needed to. If Romance Is Boring was a great sprawling mass of music, it featured some of the best material they, and any similar band in the contemporary era, have produced. But its vastness was its joy and its fault in equal measure, and the reason so many people levelled their sights at the mildly irritating sense of inconsistency. So, two years on, you will pleased to know they've ramped it up and reigned it in – the result is 40 minutes, ten tracks; all as crotch-crushingly tight as the jeans of its architects.
The first two tracks of Hello Sadness are pure Los Campesinos!: By Your Hand, the lead single opens to playground synths and intricate lyrical content as it describes his frustrations where "I've been dangling in limbo, barely keeping my cool / it's like I'm snookered 'tween back cushion and touching the eight ball" It's as riotously good as Los Campesinos! have ever been at pop songs. Then, with the timeliest reminder that these guys are (on some level) a rock and roll band, comes a rippling, gorgeous, concise riff to backbone the excellent Songs About Your Girlfriend. Here is the first moment that the album delivers something to suggest that we're onto a winner, as with acrimonious intent it provokes and prods that "All of your friends agree on her soft spot for me / I'll have my high hands over her soft spot soon you will see". As you may have guessed by my penchant for lyrical quotations so far, the wordplay and lyrical content, arguably the greatest string to the Los Campesinos! bow, is again here in force; with an abundant wit and a healthy measure of emotive imagery to boot.
But for all the replication of past successes, it's the shift in tone that is most striking. Hello Sadness proves an apt title with the implementing of grander, mournful aesthetics and equally sorrowful subjects – including some underlying violins featuring on the title track itself. There's no need to panic, because black, I must confess, suits the septet rather too well.
Nowhere is that tone of requiem, of impending nihilistic doom, more felt than on the sparse epic, To Tundra, potentially the best song the band has ever produced, particularly in its final third – and that's no overstatement. It's a brutal vision of death and terminality, but it's also heroically staged for a band that most simply wouldn't associate with such a grand style.
So Hello Sadness is undoubtedly dominated by that tone of marching, steadied requiem, but there's an intertwined hint of hope throughout, however meagre, however dim – you just have to look quite hard. The whole though, regardless of the theme, is tribute to a band in the heights of health, and one that has developed very substantially into what it is today: mature, reflective, elegant and just that little bit haunting, but ultimately and most importantly of all, brilliant.
22 December, 2011 - 23:49 — Joe Iliff