Music Reviews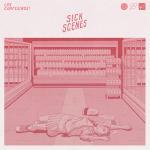 Los Campesinos! Sick Scenes
(Wichita Recordings)
Buy it from Insound

Aging is a struggle that everyone goes through, even upstart, raucous indie bands. Now, a decade after their first single, Los Campesinos! return with
Sick Scenes
. The road from then to now can feel like a long one. But their seventh album finds the group proving that maturation doesn't equal malaise. This is one of their most energetic efforts yet. It pushes against the impact of growing older, but with determinism, not fatalism.
"It seems unfair to be a rotten horn of plenty/It seems unfair to be cadaver for a curse/It seems unfair to be an overflow for empty/It seems unfair to try your best but feel the worst," Gareth Campesinos roars in I Broke Up in Amarante. Over a frenzied guitar riff, he pushes his voice in a far rougher, punky direction than ever before. But that fury doesn't guarantee negativity. On the driving Renato Dall'Ara (2008), Los Campesinos! sounds like they are knocking down the door to get back into our lives. They may have disappeared for a bit, but they're back and fighting.
The music is just as determined to win people over, creating infectious melodies through strong guitar hooks. Sad Suppers fuses wild percussion with a rough-and-tumble guitar over a bed of synths. For Whom The Belly Tolls glides from bouncy with a sharp guitar line to a woozy stagger and back. A Litany/Heart Swells is all atmospherics and guitar squalls. Here's To The Fourth Time takes a page from the bubbly vibe of The New Pornographers.
The energy of Sick Scenes can also focus into something very gentle, a refreshing angle for the band. The Fall of Home brings a light, acoustic guitar, some strings and a vocal at the top of Gareth's range. "Parent pick up from off the train/Empty high street in pouring rain/Funeral for a family pup/Teenage pubs all boarded up," he sings, deflated in his nostalgia for the years gone by. The breezy melody of 5 Flucloxacillin hides a self-struggle with medication. "Another blister pack pops, but I still feel much the same/Thirty-one, and depression is a young man's game," he sings, delivering the line as an anti-punchline. Got Stendhal's pushes into new territory, with a spacey opening that M83 could have scored. Gareth pours his everything into this song, over heavy piano chords and nimble chords. It's one of the most beautiful pieces the band's written yet.
Sick Scenes is an emotional melting pot of joy, regret and rage against the passage of time. But as heavy as that sounds, Los Campesinos! has never sounded lighter on its feet. With some of their catchiest songs yet and Gareth's muse in top form, this album stands among their strongest work. While nothing can stop the march of time, Los Campesinos! appears nearly as tenacious. They may be getting older, but they're also better than ever. [Believe the Hype]
3 March, 2017 - 12:54 — Joe Marvilli