Music Reviews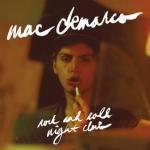 Mac DeMarco Rock and Roll Night Club
(Captured Tracks)

It takes a lot of effort to peruse through every trendsetting blog if the goal is to find an artist that shows the potential of having a longer life than that of a 7-inch and a limited cassette release. Among the never-ending cornucopia of embedded streams was an instantly eye-catching offering – it was the new video by former Makeout Videotape scribe Mac DeMarco, titled Exercising with my Demons. Shot in luscious back and white, the promotional cut presents a gang of face-painted ruffians making blasphemous gestures and causing petty mischief. As much as the Strangers than Paradise reverence made an immediate impression, it's actually the thick, skuzzy chords that give a fitting soundtrack to its stark, carpe diem moments.
Since then, what once was Makeout Videotape is simply the man himself, Mac DeMarco –an androgynous, vaguely erotic personage with a panache for deforming the twang of the fifties and American soul with a hint of seventies avant pop. In terms of physique, he doesn't necessarily exude the voguish mannishness of Bryan Ferry, but more the pasty, defenseless-looking brittleness of Kevin Barnes. But instead of internally conflicted, DeMarco is more of an absurd farceur who likes to seduce the microphone with a swaggering confidence.
DeMarco retains much of that fuzztone sound in Rock and Roll Nightclub, a mini-album that sounds as if it's taken a new life in the present day after being recovered from a fallout shelter that was built in the Mid-Century modern period. It befits a late night drive down Reno with the windows down and the moonroof open. Similar to Dirty Beaches' Badlands without the contemplative outcast motif (he presents himself as a hopelessly romantic swinger), DeMarco channels the rockabilly sneer of Charlie Feathers in tracks like Rock & Roll Night Club and Baby's Wearing Blue Jeans, which are both written in the point of view of a heartthrob whose eyes are dead set on his girl, whether he wants to play games with her, have an intimate night, or even make mental annotations on her country girl style. Because to be with DeMarco, you gotta dress the part as well.
Rock N' Roll Nightclub does suggest a bygone era, but a great part of its tone should be credited to Ariel Pink's irreverent, yet strict-minded fascination with AM pop. It does sound very hypnagogic, if you will? The woozy, lo-fi approach permeates in each and every number, but it's the hazily psychedelic undertones, and how DeMarco lilts his voice form one ballad to the next that gives it character. And oh does he love a meaty ballad – in European Vegas he pleas his baby to stay one more night while a jangly chord chimes with a dash of sorrow, while Only You molds a Duane Eddy-like twangy riff into a garage stomp once it heads into its dark, seductive chorus.
DeMarco is right at home with Captured Tracks, the Brooklyn imprint that specializes in signing artists who feel more comfortable reverting towards past sources; sometimes, explicitly doing so by being knowingly ironic. But the cheeky nature of Rock and Roll Night Club inadvertently elevates its reputation – falling somewhere between classic pop and performance art, DeMarco's talent for writing hooks should spurn any attempt to call it novelty. Mind the fact that his uncontrollable thirst for banging a simple tune isn't any different than his Canadian compatriot Tonetta, his skewed, yet glinting melodies and seeping paisley groove imply that there's more to DeMarco than meets the eye. He just needed to get this bizarre artistic expression out of his system first.
13 April, 2012 - 05:04 — Juan Edgardo Rodriguez