Music Reviews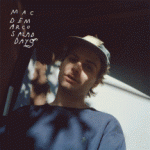 Mac DeMarco Salad Days
(Captured Tracks)

Mac DeMarco has somehow acquired a cult of personality by playing it nice and servile, winning fans and making friends with his balmy embrace through a punishing touring regimen. His buck-toothed grin never shows any signs of wear, however, and in those brief periods of rest he writes songs that ruminate on where he really wants to be. It may be a bit premature for the Canadian pop savant to sweat out the stresses of being away from home, but such is the crux of his entire body of work - a devoted, sensitive suitor who eternally daydreams about going back to enjoying the domesticity of life. Such moments are captured with guileless honesty, gaining pathos with chiffony ballads that are less than adventurous, yet immaculately precise and heartfelt.
Salad Days gives the impression that DeMarco is dwelling in a perpetual fantasyland, a young man who's found a love so true he almost can't contain it. Which is why, and unintentionally so, many of the sunshiny sentiments found in the album are overcast with troubling consternation. DeMarco is inspired by passionate monogamy, coming across as achingly cloying and untainted by the rousing cynicism that may come his way. "I was made to love her, been working at it/half of my life, I've been an addict," he mulls in Let My Baby Stay as he pleads with a wistful tone over an acoustic serenade. He's perpetuating the lightweight, confessional approach of Harry Nilsson and Randy Newman when they underwent their period of writing lilting love odes, except stripping off the Macca-influenced piano outbursts and focusing only on the mellower, more streamlined melodic contours.
Despite googling at the lens of love with a blurred, idealistic vision, DeMarco is also set on a bewildering path to uncover his own self-worth. "Blue boy/worried about the world's eyes/worried every time the sun shines", De Marco sings as he faces his impending maturity in the track Blue Boy, adopting a sauntering chord progression that is wiser than his years. DeMarco knows how to refrain when recognizing that things may get too personal, claiming in Passing Out Pieces "I'm passing out pieces of me/Don't you know nothing comes free?/What mom don't know has taken its toll on me," but it does clearly allude to his sudden growth in the limelight and how the exposure involuntarily holds him against his will. DeMarco is certainly trying to stretch himself to the best of his potential by taking a more earnest approach, but on occasion it may seem as if he's subduing his irreverent side in thinking that both sides can't co-exist.
In doing so, though, DeMarco has truly augmented his strengths even more prominently - that bright and airy charisma that characterizes his compositions is certainly no accident. Those brittle, glinting arpeggios, seasoned with a tropical warmth, are now a trademark of his, and the more emphasis he gives to showcasing this makes it more clear that he's doing more than alluding to the bookish influences that penetrate into his work. The trembling flange of Go Easy can be found in 2 in different variations, but when juxtaposed with DeMarco's parting acquiescence it gives that ringing arrangement more gravitas. And though there was a marked reluctance to write the buoyant Let Her Go, his label Captured Tracks getting involved in the midst of his writing process with a vote of confidence, the fact that it manages to exhibit his affable counsel without compromising his natural songwriting impulses can be explained as that of a producer whose serving as a creative guide to an artist whose writing method is already completely autonomous.
So De Marco does ultimately lay rest to the strutting persona of Rock N' Roll Night Club, which was more an extension of Makeout Videotape to begin with, and instead molts into a more refined, adult-like form of the oddball comic rhythms found in 2. At first it may appear as if he's differing from his rubber-faced routine, but Salad Days makes it absolutely clear that there's more to him than performing slack medleys of tired songs found in modern rock radio and juvenile You Tube promos involving sexual innuendo. The romantic in De Marco is now very much a presence in his life, far from it being a farce, and adroitly balances those feelings of solitude and intimacy by clasping dearly to the everyday proportions that make his life complete. Salad Days is a testament to love at its most selfless and pure as much as it is the fear of holding on to it.
7 April, 2014 - 04:53 — Juan Edgardo Rodriguez