Music Reviews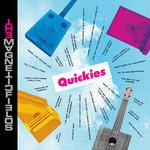 The Magnetic Fields Quickies
(Nonesuch)
Buy it from Insound

You can always count on The Magnetic Fields to deliver a conceptual gimmick. The Stephin Merritt-led veterans have written 69 love songs, 50-song-per-year memoirs, a trilogy without using synthesizers that tap into feedback-drenched rock and folk, faux-country nods to the road, and warped odes to orchestral pop luminaries. There's no perfect entryway into the band's expansive oeuvre, now entering their fourth decade together, and that's precisely the point: a whole universe onto itself that prides itself for being wildly indulgent but also deeply rewarding and human.
By now, you'd think that Merritt's latest outlandish experiment would lead him to write a proper album with proper songs without a concept in mind. Quickies, of course, doesn't follow that route, organized as 28 song vignettes that barely pass the 2 1/2 minute mark—some are even as short as 17 seconds. It immediately comes to mind as The Magnetic Fields' least compelling concept so far because it implicitly meets a requirement of most of the band's work: a large portion of their songs tend to be brief. Setting the obvious aside, Merritt abides by a set of conditions and expects his listeners to follow along and decide if he's succeeded —a good reminder that Merritt likes to work within the strict limitations he sets himself.
With Merritt, though, it's always a given that you'll get a heaty dose of gallows humor and stories that blur the line between sincerity and insincerity. Going by the haphazard logic of Quickies, pressing play to any track, and at any order, will meet you with a heck of a one-liner (and Merritt's signature hoarse baritone). Take the banjo-led My Stupid Boyfriend, where he lists a good number of reasons to run from his partner—or perhaps love his endearing ways: "My stupid boyfriend can't find his own house on a map." On (I Want to Join) a Biker Gang, he imagines a life that's outside of his purview with a mixture of empathy and mockery: "So let my wife and children hang / I will be known henceforth as fang." Merritt, as usual, writes stories that reveal the unmentionable—the kind of morbid thoughts we regularly think to ourselves and seal them tight with lock and key.
Though he has his fair share of zingers, Merritt relies heavily on longtime bandmates Claudia Gonson and Shirley Simms to deliver some of the album's true lyrical quips. Gonson is fed up, and justifiably so, on The Day the Politicians Die, imagining some idyllic (or horrid) apocalyptic wormhole that rids us of all the bipartisan bullshit and leaves the obscenely rich salivating to take over: "We've risen from the mud/We're different from the beasts/We've got the taste for blood." While on Rock N' Roll Guy, she considers the benefits of dating an idealistic lifer: "Someone with no long-term plan/ As worldly-wise as Charlie Chan." The primal hoedown of The Best Cup of Coffee in Tennessee is simply strummed and unadorned, where Simms is infatuated with a small town barista ("She's fat/I like that/I've got a nice big belly too") who could genuinely make her happy. Even with their droll observations and flat vocal delivery, both Gonson and Simms aptly fit these specific narratives with an oddball charm—and is a good reminder of how Merritt can occasionally benefit from giving the spotlight to his other bandmates.
Despite its sizable number of tracks, Quickies does move along at a brisk pace—even if its scattershot sequencing makes it better to digest as the five 7 inch-EPs presented in the physical version. The album does lean on the frivolous side, both in terms of song themes and presentation, but if Merritt has taught us anything is to never take at face value. He also seems to want an emotional palate cleanser after the massive, Boyhood-like chronicle of 50 Song Memoir. There are brief sketches about characters getting jacked off inside bathrooms and women with bouncy, three-breasted jugs like the prostitute in Total Recall, but behind the goofiness, these are stories about people who struggle to find love or connect with others in exciting and meaningful ways. And considering Merritt and his bandmates' consistent track record, their highbrow meets lowbrow approach is sure to incite a quick laugh or cry.
19 May, 2020 - 05:29 — Juan Edgardo Rodriguez