Music Reviews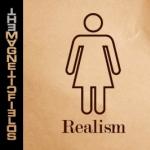 The Magnetic Fields Realism
(Nonesuch)
Buy it from Insound

Ever since 69 Love Songs was released, it's been no difficult task to catch Stephen Merritt overextending himself. Conceptually dense while vibrantly singular, each album since the 1999 lauded classic has carried with it its own specific semblance of quirky indulgences. Following such an ambitious project is a delicate undertaking in the first place. When you take into account 69 Love Songs particularly far reaching shadow, it's not hard to understand The Magnetic Fields and their seeming need for artistic reinvention. It comes as no surprise then that their latest effort (the totally non-ironically titled Realism) finds its own subtly jarring ways to both impress and confound.
Completing the "no-synth" trilogy started in 2004 with i, and continued in 2008 with the excellent Distortion, Realism is Merritt's unabashed stab at folk. Serving as both a stark counterpart to its predecessor, as well as an unexpectedly refreshing take on The Magnetic Fields' familiar methods, Realism is a folk-pop album that has no idea how to separate its genuine intentions from its guilty pleasures. Such as it is, a disparate sort of concoction is created; one that only Stephen Merritt can be responsible for, and one that is endlessly fascinating.
Blending his usual deadpan delivery with a crisply cheeky brand of (in)sincerity, Merritt finds the stripped down singer/songwriter hat a weirdly perfect fit on Realism. Album opener You Must Be Out of Your Mind remarks, "you want what you turned off turned on" in a winningly confessional track that continues the usual Magnetic Fields themes of loneliness and lack of connection; but adds to it the vivid imagery of sarcastic fuck-all. Later, the sparse instrumentation on the almost angelic I Don't Know What To Say only elevates the track's central mantra to a point of lucid, regrettable honesty until it abruptly trails off into nothingness.
The ridiculously anthemic We Are Having a Hootenanny is as infectiously dumb as it is addicting. Communal and classic, it speaks perfectly to the atmosphere Merritt aims to create on Realism from its start. Everything Is One Big Christmas Tree continues in this fashion, albeit flashing a bit more of the trademark smarminess of which we've all grown accustomed. However, The Dada Polka (which is the only track on the album to employ the use of the electric guitar), probably makes the best argument for the LP. The way it fuses its own ideas of what a folk song could be and what a pop song should be, makes for one of the more enjoyable two minutes and twenty five second stretches you will likely spend with a song this year, and (in that sense) almost perfectly encapsulates Realism on the whole.
While it is admittedly commonplace and boring at this point to continuously compare The Magnetic Fields' releases to 69 Love Songs, each new LP is (at the very least) an interesting testament to Merritt's artistic cunning. Realism strikes a compelling balance between cringing honesty and organic chemistry that comes through in its crystalline composition as well as its more rugged manifestations. Complete reinvention isn't necessarily reached, but isn't quite the ultimate goal either. As with any Magnetic Fields album, Realism seeks to expand upon the band's storied existence, adding yet another layer to its already thick skin.
19 January, 2010 - 22:19 — Daniel Rivera