Music Reviews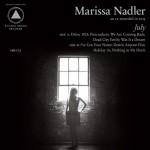 Marissa Nadler July
(Sacred Bones)
Buy it from Insound

In a word: beautiful. From the offset, this is such a warm, wintry and special album. It sounds like happy emotional memories, or the soundtrack to some lovely romance. It's an album to listen to with a loved one, or even just marvel at alone. The songs are sparse, and they breathe all over the listener. There is no falsely dressing up these tracks. When it is just Nadler's guitar and voice her message is essentially louder. The tenderness seems more real than ever before; it isn't the kind of achievement that is easy, so that it sounds effortless is again a great gift to listeners.
There's something soothing and familiar about these new songs. They have a near classic vibe, the way Nadler's tones cocoon the listener, an embrace from angels. Each song is like a finding a baby in a basket on the doorstep. It's immediately loveable and becomes moreso as you get to know it. They're also ferociously delicate. They amount to much, each a journey, together a spectacular voyage. It's an almost exhausting experience, but such is the personal nature and mood. It's like eaves dropping on an epitaph for a hero.
Marissa's voice takes off with such perfect force on the chorus to opener Drive. It's an indication of what's to come and barely falls below the high bar set so early on in proceedings. The lead tracks Dead City Emily and Was It A Dream leave the listener
tantalisingly
eager for the whole album, creating mood spaces that don't just feel like you are listening to a song, but that its very heart is clawing its way into your own.
The emptiness of the songs is what feels at times harrowing, and is at once also joyous. Gently-plucked guitar lines weave their way through many of the songs. She's found her way of releasing what she feels inside, and it sounds both exhausting and necessary.
The lyric "I keep thinking it was a dream" is probably something that we can all relate to at one point or another in life.
1923
is
Nadler
at her tragic darkest, but it soon entices us into her world long gone by. It feels like being lost at sea, reminiscing, before surrendering to the ocean and being at peace. The strings and gentle drums lift the song through the murky opening and it results as being quite a hopeful piece of work.
Nadler's lullaby of a voice is, at times, stunning.
It's remarkably thrust into your face, your senses, and of course, your ears, until tears would seem an obvious reaction.
Firecrackers
is a prime example - if you are missing a loved one, then this song and some of the others here are more than likely to cause the tears to flow. Over the course of July, she makes it seem easy. There is very little here to pull the album down. Yes, the songs sound similar, but so sublime is the sound and so well crafted that this is an extremely minor complaint.
Nadler has also penned one of the loveliest and saddest tracks you are likely to hear all year, the closing track Nothing In My Heart. It's remarkable and the line of the title rings out in your head after the final notes of the song and the album fade. It's as if the journey of releasing all these words and emotions has left her empty and exhausted. The winter weather and the struggle to keep a relationship alive are the noted sources of emptiness. It's verging on the spectacular, and by way of ending the album in such fashion leaves the listener craving more, or an immediate repeat. She's near the peak of her powers, if not actually at the summit.
7 February, 2014 - 04:50 — Dominic James Stevenson